We are working with the Justuno team on a direct integration. Until then, it's possible to connect Justuno to Remarkety via their Embedded Forms. You can read more on Justuno's support website, but here's a quick guide to get you started with integrating Remarkety.
1. In a new or existing Justuno promotion, make sure you are on the edit canvas and select the existing "email" field. Click on "Change Form" on the right: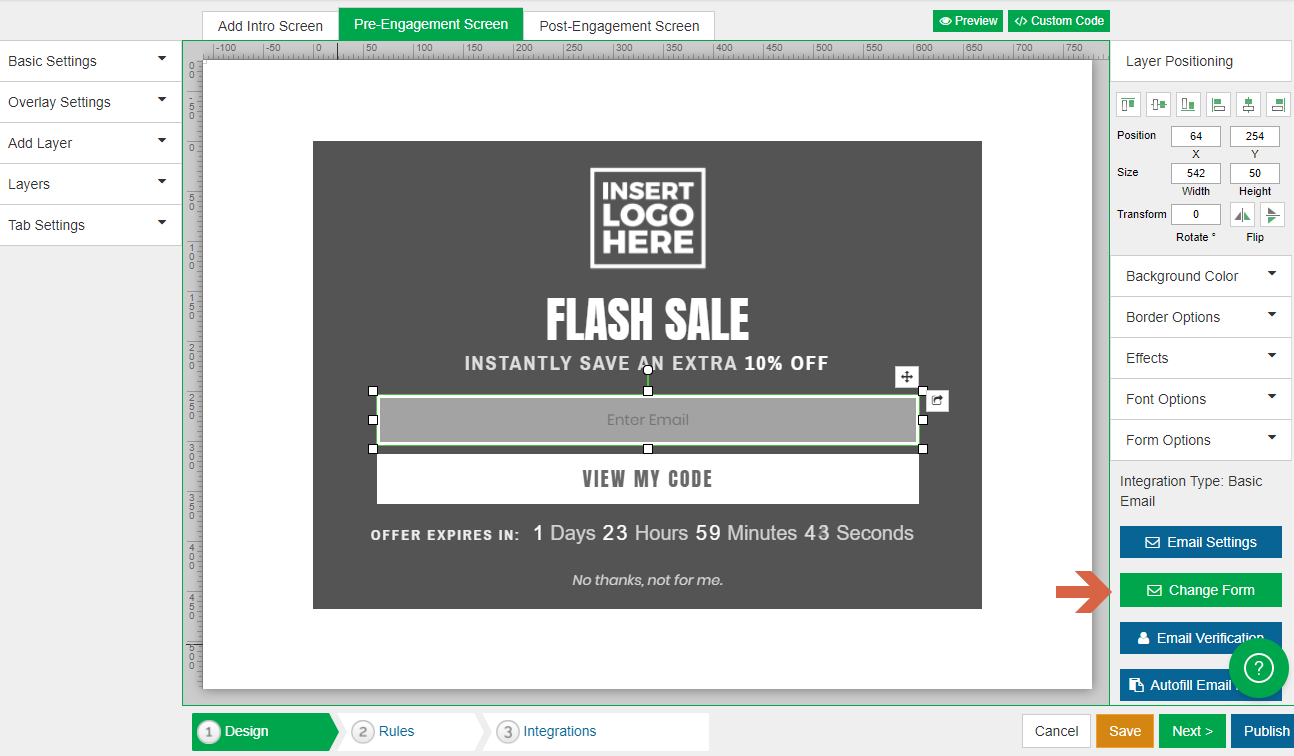 2. Scroll to the bottom, find Custom Form, and click "Connect":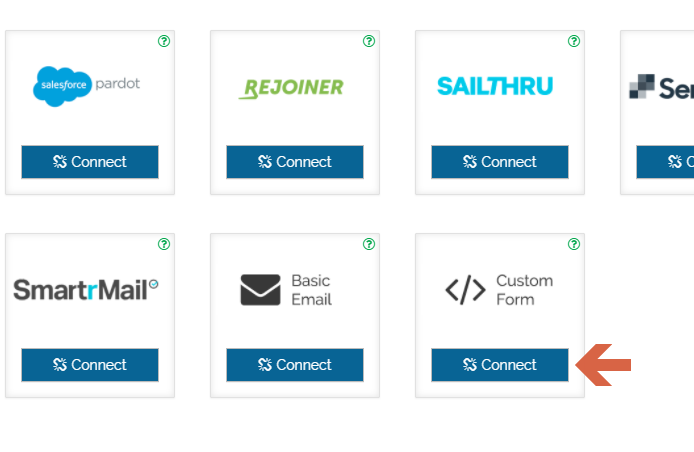 3. Within another browser tab, access Remarkety, go to: Contacts -> Embedded HTML Form, and click on "Select & Copy Text":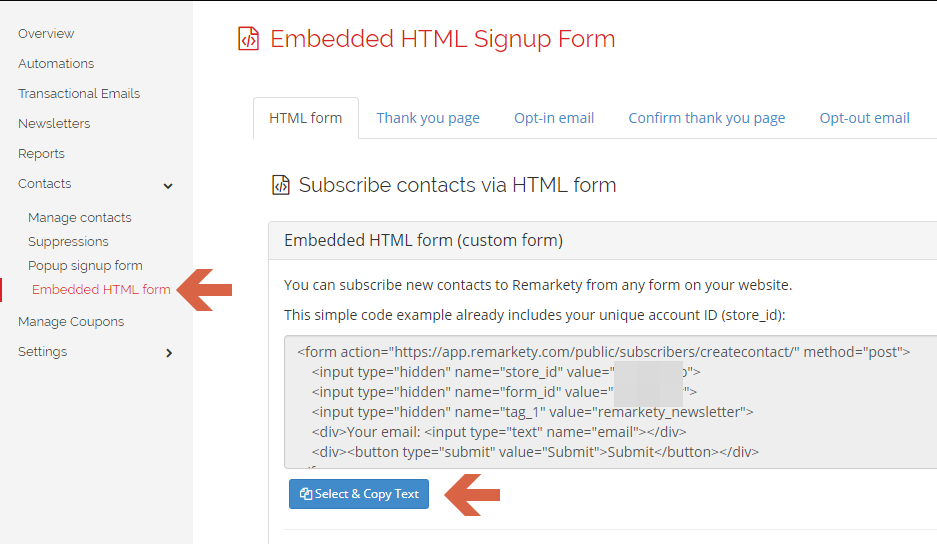 4. Paste the form into the editor that opened up in Justono and click Next: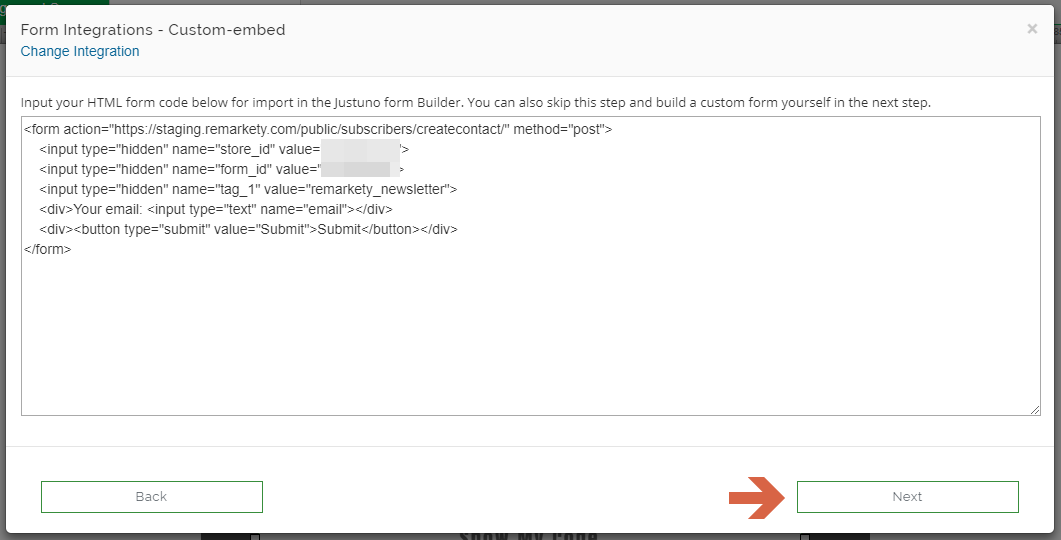 5. Leave the store_id and form_id fields as is, but modify the tag_1 field to autopopulate with the Promotion Name. This will ensure that contacts that sign up using this Justuno campaign will get tagged with the campaign name within Remarkety.

6. Advanced: If you'd like your contacts to be tagged with additional tags, scroll to the bottom of the field editor, add a Single Line Text field, call it "tag_2" (or "tag_3", etc).

Enter the value you'd like to populate (such as, "Justuno"), and make sure that it is hidden.

7. Click on "Create Form" and style the form to fit your needs!
Quick tip for Justuno:
If you'd like to make labels disappear, do so by using the "Layers" menu on the left, and clicking the eye icon on the relevant Field Label. You may need to click through some of them until you find the right one: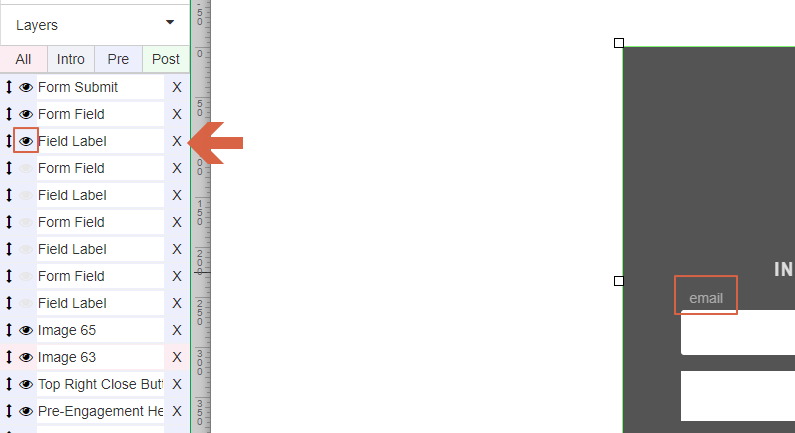 Identify the visitor for website tracking
Assuming you already have our website tracking script installed and working, you can use JustUno promotions to identify the visitor on the website.
Just add the following script to the footer of your website (on all pages):
<script>
window.ju_custom_event = function(email, eventname, promotitle, step, cmid, options, data){
  if (step==2 && email!=''){
    window._rmData = window._rmData || [];
    window._rmData.push(['setCustomerEmail', email]);
  }
}
</script>