Remarkety's Sequence Builder helps you create unique, automated omni-channel marketing workflows for your subscribers.
A "sequence" is a set of interactions that your customer has with your brand in order to remove obstacles and create a seamless marketing experience. Each sequence starts with either a time-based or event-based trigger that enrolls subscribers into the flow, and can have as many succeeding steps added as you'd like.
In this article, you'll learn how to create a sequence from scratch.
Create a new sequence
Create and manage your sequences on the sequences homepage. You can build a new one from scratch, or choose from a selection of pre-built sequence templates.
In this tutorial, we'll show you how to create a new sequence from scratch.
To create a sequence from scratch, follow these steps:
Click Sequences in the left hand menu.

Click Create Sequence.

Click Create from Scratch.
Enter a Sequence Name, and then enter a Description.
Click Select Trigger.
Choose which trigger will start your sequence.
Press Create Sequence in the bottom right corner to save these settings and begin designing your sequence!
Now that you've created your sequence, add trigger filters, actions, and conditions that will determine each contact's unique path.
Keep in mind that a sequence can be as simple or complex as you want it to be. Review your options, and choose only the steps that best suit your marketing needs.
Define the trigger
A sequence first starts with a trigger. This is the activity or event that adds a contact to a sequence and acts as an initial "gate" to enter. You've already chosen your sequence's trigger at the outset of creating the sequence.
There are event-based triggers, which are activated by a specific customer behavior (like completing a purchase), and there are also date-based triggers, which fire before or after a specifically defined date (like a birthdate).
Examples of triggers:
Abandoned Cart

Order Placed

Order Fulfilled

Birthday
Trigger filters
Certain sequence triggers will allow you to add a filter. For example, an Order Placed trigger will allow you to filter which orders trigger the sequence based on certain conditions; for example, trigger the sequence only if the order placed is has more than 2 items.
To add a trigger filter, follow these steps:
Click on the trigger that begins your sequence to open up the filter modal.

In the Filter tab, open the Select Trigger Filters drop-down menu and select your desired filter.

Click here for a complete list of our trigger filters.
Re-trigger
In addition to adding trigger filters, define the sequence's "Re-trigger" behavior. This specifies if customers can re-enter this sequence while already in the middle of it.
To choose your sequence's Re-trigger settings follow these steps.
Click on the sequence's beginning trigger.
Select the Re-trigger tab.
Choose between On / Off.
Click Save.
Nice job! You finished setting up the trigger for your sequence.
Add sequence steps
After your trigger is set, think about your goals for the sequence, and plot the combination of actions and conditions accordingly. Create a unique customer workflow that meets your marketing needs!
Your sequences can be built out of the following steps:
If / Else split

Wait

Send email

Send

SMS

Create coupon
To add a step, click your cursor on the plus icon (

) on the step where you want the branch to occur.

All the steps and conditions you can use are in the right-hand panel of the sequence builder.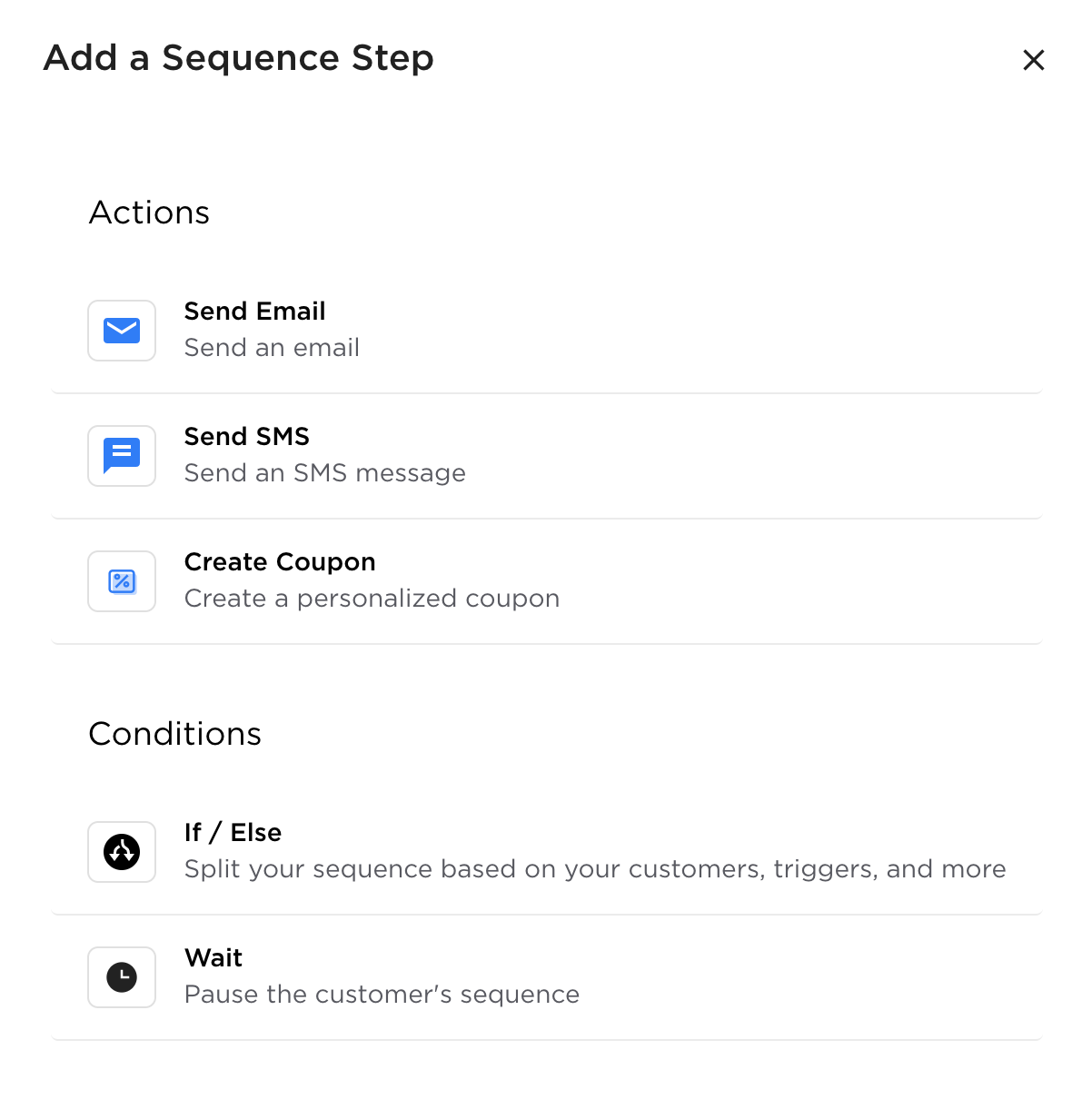 To learn more about what each step accomplishes, read our guide here.
Activate your sequence
To activate your sequence, follow these steps:
Review your sequence to make sure it's ready.

Check that your email and SMS steps are set to Running status:
If your email or SMS step is set to Draft mode, click on the action and change via the Status drop down.
Click the Sequence is paused toggle in the top-right corner.
Press Yes, Activate.
Congrats, your sequence is now running! Now, your contacts who fit the entry conditions will begin their journey through the sequence.