SMS marketing (Text-message) is a method that businesses use to reach out to consumers with promotional messages via permission-based text messages.
Set up SMS messaging in your Account Settings
On the left navigation menu, go to Settings->SMS settings.
Start from enabling your SMS feature and add SMS credits to your SMS plan.
SMS credits and Automatic Top Up
SMS Credits:
On the top of the page, you can find your current SMS credit balance.
You can simply add credits to your SMS billing by clicking the "Top Up Now" button.

Once the "Top Up Now" button is clicked, a side window will appear and offer to add credits to your SMS billing. Select the amount and click "Buy Credits" to complete.
Automatic Top Up (optional):
If you prefer automatic top up of SMS credits, you can set up rules to automatically refill your balance. Simply click on the "Click to configure" link and the auto top up settings window will appear. Check the automatic top up checkbox and select the settings of your choosing. To confirm, click Save.

Reputation Guard
This powerful feature is designed to protect you from sending too many messages to your customers and make sure they only get your messages on specific times. Set up limitations and frequency for sending SMS messages and the times of the day that SMS messages should not go out.
We highly recommend to respect your clients' inbox and to send no more than one SMS per day or even less if possible.

Set up automated SMS responses
There are different sections to set up your automated responses:
Make sure to set these up before sending any type of SMS campaign. With Auto SMS Reply, an automated text response service, businesses are confirming appointments, expediting sales, and handling issues as soon as they arise. Conversations can continue even when the business is closed for the day, instantly and automatically sending personalized, follow-up text messages that support and satisfy your customers at every intersection of their journey.
Collect SMS phone numbers (non-checkout):

This is a message that will be sent to clients after they fill-in an opt-in SMS form. There are 2 options to choose from: Send a verification opt-in message OR to automatically opt-in the phone number. We highly recommend selecting the first (default) option.
When "Send a confirmation SMS" is selected, then SMS phone numbers will be verified by sending the client an opt-in confirmation message. The recipient can confirm by clicking the link in the message, or by replying with one of the selected opt-In keywords.
You can edit the confirmation SMS message, or leave it as is.

Collect SMS phone numbers during checkout:
This setting lets you collect phone numbers for SMS marketing without additional popups or forms. Based on your selection, Remarkety can extract the phone number for SMS directly from the information submitted in the order (for example, shipping address).
Important: Please make sure you are making it very clear on the website that the numbers will be collected for marketing purposes. In most cases, it is *not* advisable (and may be illegal) to opt-in automatically without an additional confirmation.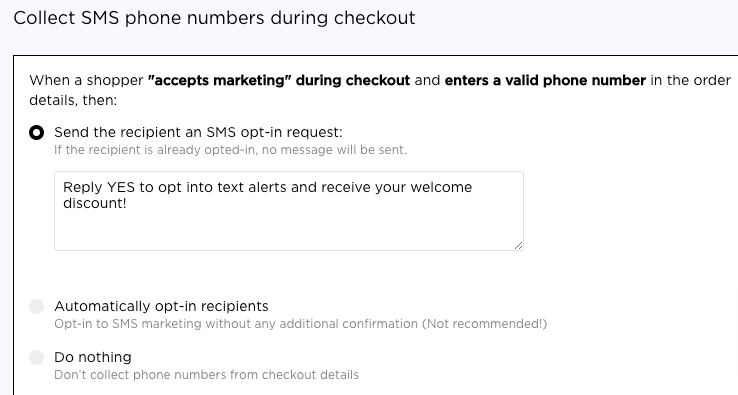 Opt-in and Resubscribe:
Add an opt-in verification message to automatically send the contact. This message will be sent when an unverified number is added to your SMS contact list.
Add the keyword to allow the contact to opt-in. If the contact wants to receive SMS messages from you, s/he will reply with any of the default keywords, or specially created keywords of your own choosing.
Add the opt-in confirmation message to automatically send the contact to confirm acceptance of the contact's opt-in.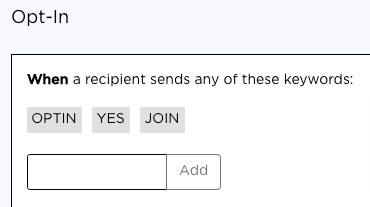 Opt-out and unsubscribe:
You can add different keywords, which recipients can reply to either (a) Unsubscribe from SMS marketing only. Or (b) Unsubscribe from ALL marketing channels.
Then, set up the automatic reply that will be sent to the customer after s/he decided to opt-out.

Help request:
Add different keywords that clients can send back and request assistance.

Select an email address to forward the SMS replies to, and from which email address the customer will receive an automatic email reply after submitting a help request.
Other Inquiries:
This is very similar to the above Help request, however, it will trigger the automatic response when a recipient sends a message with none of the keywords above. Select an email address to forward the SMS replies to, and from which email address the customer will receive an automatic email reply after submitting a help request.

Manage Phone Numbers
Remarkety offers you one free US phone number for your SMS outgoing messages. This type of phone number can manage a load of up to 10 messages per second. This will probably cover your needs for most automations. For larger brands with higher traffic, we recommend adding more numbers in order to avoid delays in sending.
Moreover, if you are going to send SMS blasts, we definitely recommend adding more outgoing numbers. Remarkety will automatically load-balance the messages between your phone numbers. Take into account that each phone number can send a maximum of 10 messages per second, except when using a Short Code that allows you to send 100 msg/sec.
You can add a phone number by clicking the "Add Outgoing Phone Number" button.

Inside the pop-up window, you can define the country you are sending SMS from/to, and the type of number you wish to create. We offer 3 number types:
Local Number (1 msg/sec)

Toll-Free Number (3 msg/sec)

Short Code (100 msg/sec)
Select the country you're sending to and the type of number you wish to add and click "Add number".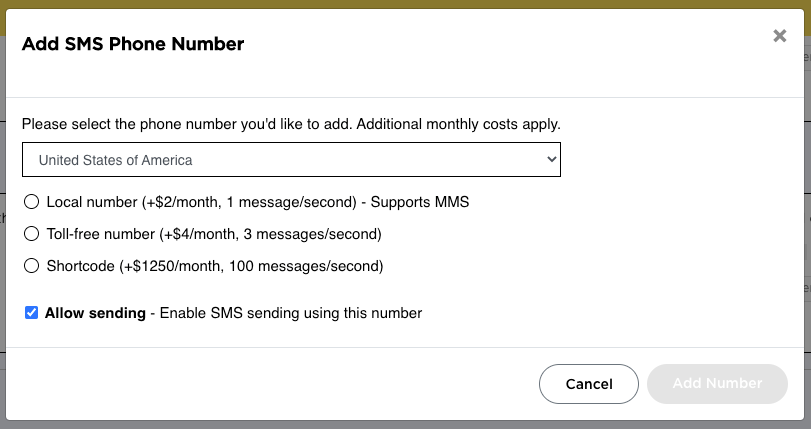 Once you click "Add number," the number that was generated for you will populate on the outgoing phone numbers list.
Choose the phone number's sending status, if outgoing SMS will be sent from this number. If you have multiple phone numbers you can choose if SMS go out from one specific number or spread across the multiple.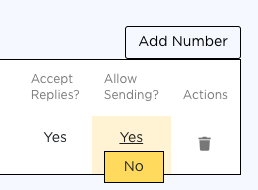 That's it, you're all set.
Next step: upload your SMS contacts and create your new first SMS campaign.