Now that you are more familiar with Remarkety, it is time to send your first newsletter! A newsletter is a one-time email or SMS blast that is sent to your customers. Newsletters can include whatever information you choose, like informing customers of upcoming sales and updated catalogues. Or use them to communicate with recently signed up customers and purchasers.
Set up Newsletter
Follow the steps below to set up your first newsletter with Remarkety:
1. Select Newsletters in the navigation bar.
2. Choose the red plus sign next to Create Newsletter to send via email, or the red plus sign next to Create SMS blast to send via SMS. The next steps will be the same for either choice.

3. As with automation creation, fill in Setup info:
Campaign name

Subject line

Segmentation

Coupons

Product Recommendations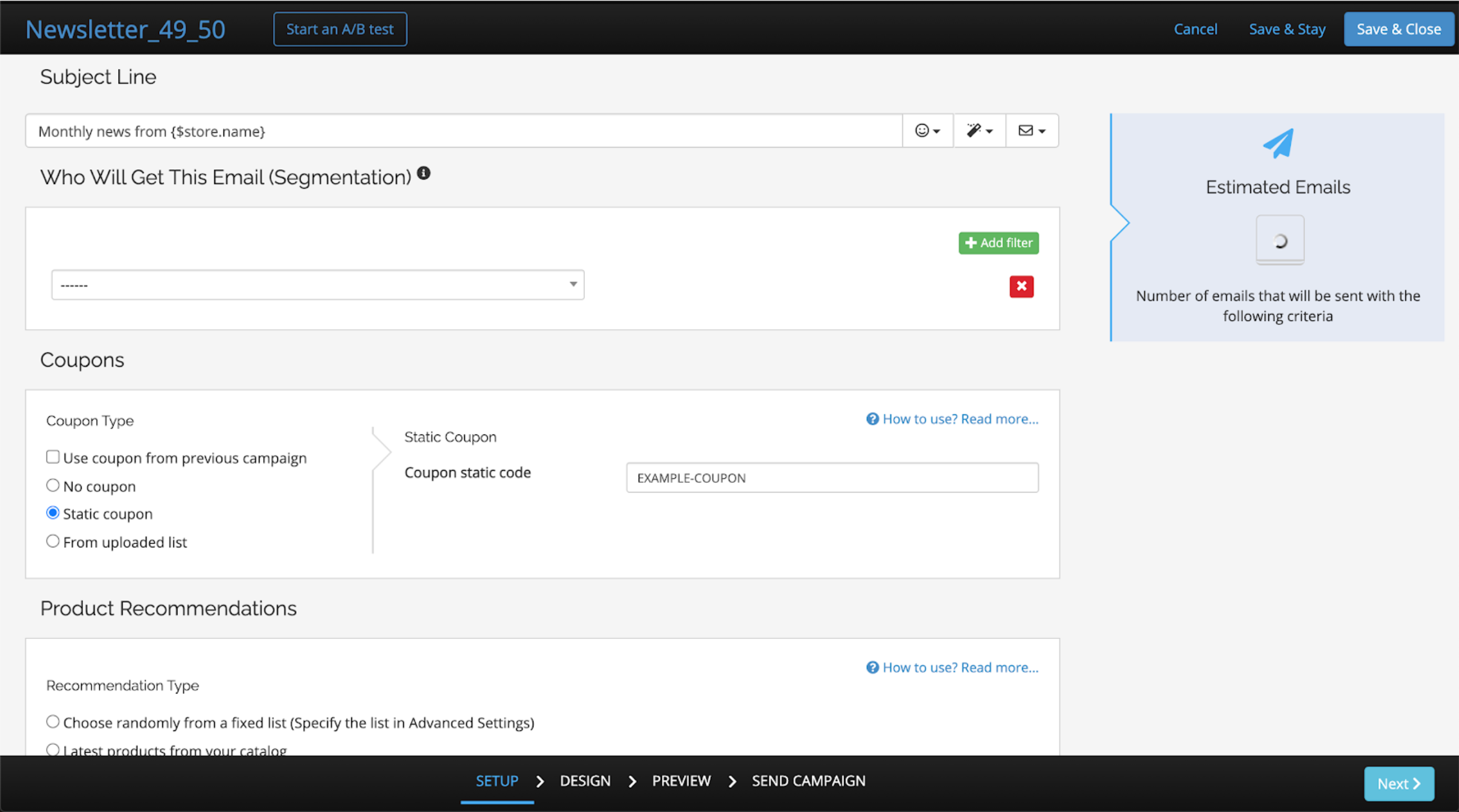 4. Design your newsletter. Don't forget that you can include text, image, and video to give your viewers a variety of content to view. (Note: Image and video are not available for SMS blasts but possible when sending MMS messages)

Take your time and play around with different settings on the template editor. Spending more time getting comfortable with the template editor now will help you out in the long run. Click here for a template editor tutorial.

5. Preview your newsletter.
6. Choose your delivery settings (see below) and send your campaign!
If your newsletter is sent to over 10,000 contacts

, we recommend choosing the

Throttle

setting to spread out the sending times of your emails. As a new sender, email service providers could mistake your large amount of messages as spam. To avoid this, throttling

sends emails out over an evenly selected period of hours instead of seconds. Following this practice for your first few newsletters will increase your deliverability rate by minimizing the amount of emails that end up in customers' spam folders. After your first 3 to 5 newsletters, throttling will not be necessary.

We recommend setting your throttle period between 1 to 4 hours. An hour is a sufficient throttle period for a recipient list of 10,000 contacts. For more contacts, increase the period. If you are sending to over 200,000 contacts, work on this with your account manager.

Newsletter Tips
Here are a few best practices that will help make your newsletters even more effective.
Segment, segment, segment!

Be thoughtful in who you choose to send your newsletters to. By specifying audiences, you will be able to better avoid being reported to customers' spam folders, have users unsubscribe from your list, and prevent deterioration of your sending reputation.





If your store is new to automated marketing systems, segment between users that recently signed up and users whose contact info is older. Old email addresses tend to bounce more and will affect the deliverability to more reliably active users.




Check your work on many platforms.

Make the most of Remarkety's preview testing capabilities. Send out the same template design to different platforms to ensure your messages will look the way you want to all customers across all devices and services. Pro tip: Use services like Litmus or Email on Acid to preview on all possible platforms.




Keep your subject line simple and direct.

Avoid subject lines with ALL CAPS, the word SALE, or anything which else that will likely trigger a spam filter.




Is it readable and inviting?

Make sure there is a healthy ratio between image, text, and call-to-action (CTA) terms.




Double-check links!

Make sure the correct URL is attached to your CTA buttons and terms. A wrong link can be misconstrued as a phishing attempt.
That's it for now. Read on to learn about the powerful benefits of segmentation and how to go about it.