Segmentation allows you to target recipients for your campaigns based on one or many specified conditions. This means that you only send relevant information to each unique customer. The benefits of segmenting your recipient list include positively affecting your deliverability rates, conversion rates, and keeping your customers happy.
Segmenting 101
Since segmentation is a powerful tool and Remarkety offers so many different options for it, we'll just introduce the process here. The Segmentation dropdown is present on the contacts page, inside emails campaigns, and in the segments feature itself.
A segment is built by applying a set of filters to your entire customer base. The segment will consist of customers who pass all of the filter conditions that you set.
Segment Filter Categories
Remarkety offers many different filters for segmenting. For our convenience we'll break them down into general groups and the specific filters that fall under them. These are the big categories.
Lifetime Purchase History
Specific Filters
Lifetime Purchase History
| | |
| --- | --- |
| Average Order Value | Do not send it customer made an order within X days |
| Customer average order percentile | Last order Date (X days ago) |
| Customer has purchased a product that contains/doesn't contain text | Number of orders (any status) |
| Customer has/has no cart | Number of Orders (by channel) |
| Customer has/hasn't purchased a certain product | Purchased a product from category (X days ago) |
| Customer has/hasn't purchased a product from category | Total Spending |
| Customer has/hasn't purchased a product from manufacturer | Total spending (w/o shipping) |
| Customer has/hasn't purchased a product from vendor | Total spending by channel |
| Customer made an order between specific dates | |
Contact Details
| | |
| --- | --- |
| City | Registration date (between two dates) |
| Country | SMS phone number country |
| Customer field has/doesn't have data | Segment |
| Customer has an SMS phone number | State/region |
| Email address contains/does not contain text | Street address |
| Gender | Tags |
| Group | Total rewards points |
| Opt-in Status | Zip code |
| Registration date (X days ago) | Birthday (in x days) |
Campaigns Engagement
| | |
| --- | --- |
| Customer didn't receive an SMS from group in last X days | Last open date |
| Customer didn't receive email from group in X last days | Purchased from campaign |
| Do not send if customer received any email from you recently | Receive an email from campaign (X days ago) |
| Email engagement (specific campaigns) | SMS engagement (specific campaigns) |
Smile.io Rewards Program
Customer is in Smile.io rewards program
Website Activity
Last website visit (X days ago)
Marketing Status
Random Split
| | |
| --- | --- |
| Split into half | Split into quarters |
Customer Custom fields
For a deeper dive into each of these categories and example uses, click here.
Using Segments
There are two main ways to use any of the above listed segments on the dashboard.
1. Create a one-time segment in a new campaign you're creating. Select your segment filters in the Who will receive this email field on the initial set up page of each campaign.
Segment lists can also be accessed on customer pages.
2. Or create a dynamic group list that will be saved as its own segment. This way the segment can be easily accessed and reused for future campaigns. To set this up, follow these steps:
On Remarkety's dashboard, select Segments

.

On the top right side of the page select the + New Segment

button.

This brings you to a popup with 8 options for segment lists. One of the options is

Blank

so you can build your own from scratch to ensure you can always create what you want.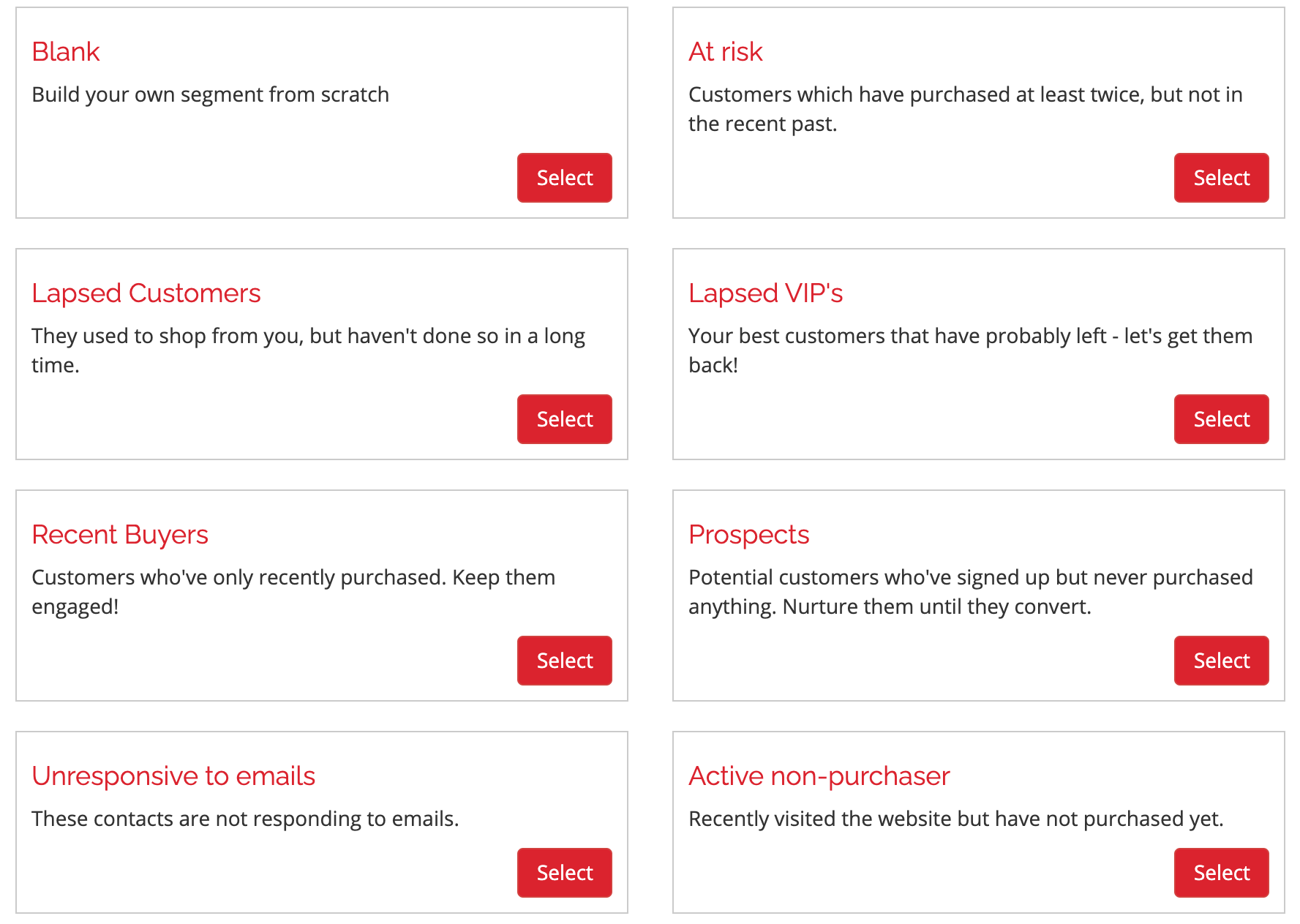 Select your choice and then customize and save the filter options on the next page.

Once you press

Save Filter

your segment list will be saved.
These lists are dynamic, so if a customer at one time fits the segment group condition, they will be included in the group. If that same contact later does not fit the condition, they will automatically fall out of that group list. If a new contact is added that fits the segment conditions, they also will automatically be added.
Segmentation Example
Here's a segmentation scenario to help you see what's doable. Let's say you have a brick and mortar shop in New York, and you want to alert relevant customers about the home goods inventory updates in your store via a semi-regular newsletter. The segment includes shoppers who fit the following 2 conditions:
Live in New York: Set

Contact Details > City

Purchased from your home-goods category: Set

Lifetime Purchase History > Customer has/hasn't purchased a product from category
Customer X initially signs up for your contact list with a New York City address and purchases a pot from your online store. Customer X fits the segment conditions to receive your first newsletter for this group. One year later, Customer X moves across the country and changes their account settings on your website to reflect their new address. You do not need to manually unenroll Customer X from your NY Home Goods dynamic list. The system will automatically unenroll Customer X because they no longer fit both of the conditions set for the list.
You also have the option to manually enroll or unenroll a contact from a segment tag through their Contact Info page in the Manage Contacts section.
Congratulations on making it to the end of your Segments introduction! Next find out how to sync your Remarkety account with your store's Facebook and Instagram ads. We'll discuss using segments on your social media ads to retarget customers outside of email and SMS.