Welcome to your Remarkety dashboard. Now that your store is connected, it's time to learn how to drive!
On the left side of the homepage is the Navigation Menu, which facilitates easy access to all things Remarkety.
The dashboard menu
Below is a brief explanation of each section listed above:
Overview
Gives you a quick snapshot of your campaign performance and conversion rates. It looks like this: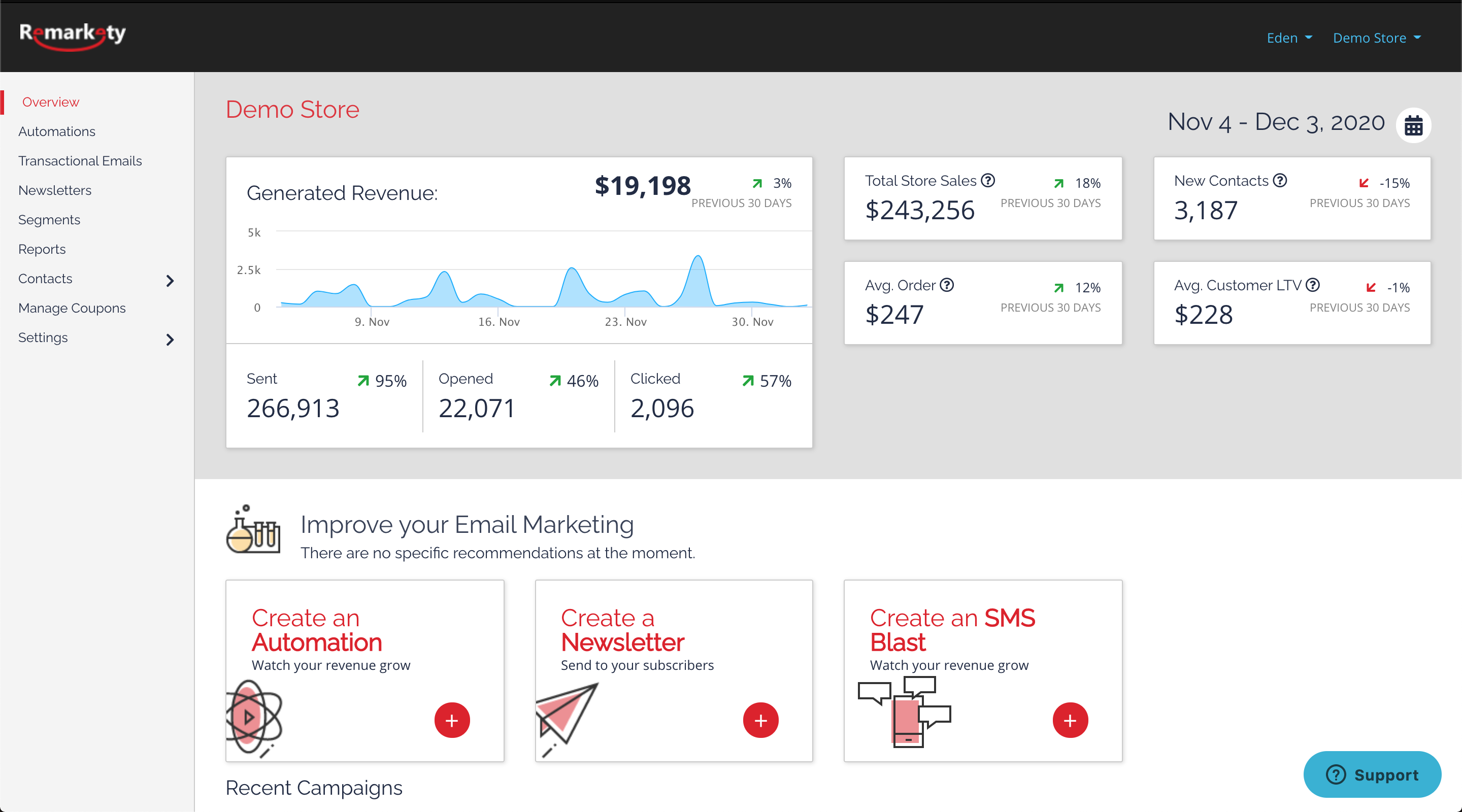 Automations
Ongoing campaign flows (as opposed to newsletters that are one-time blasts). Click on the Automations tab from the navigation menu, and you'll see a variety of template sequences you can use to engage your customers in different ways.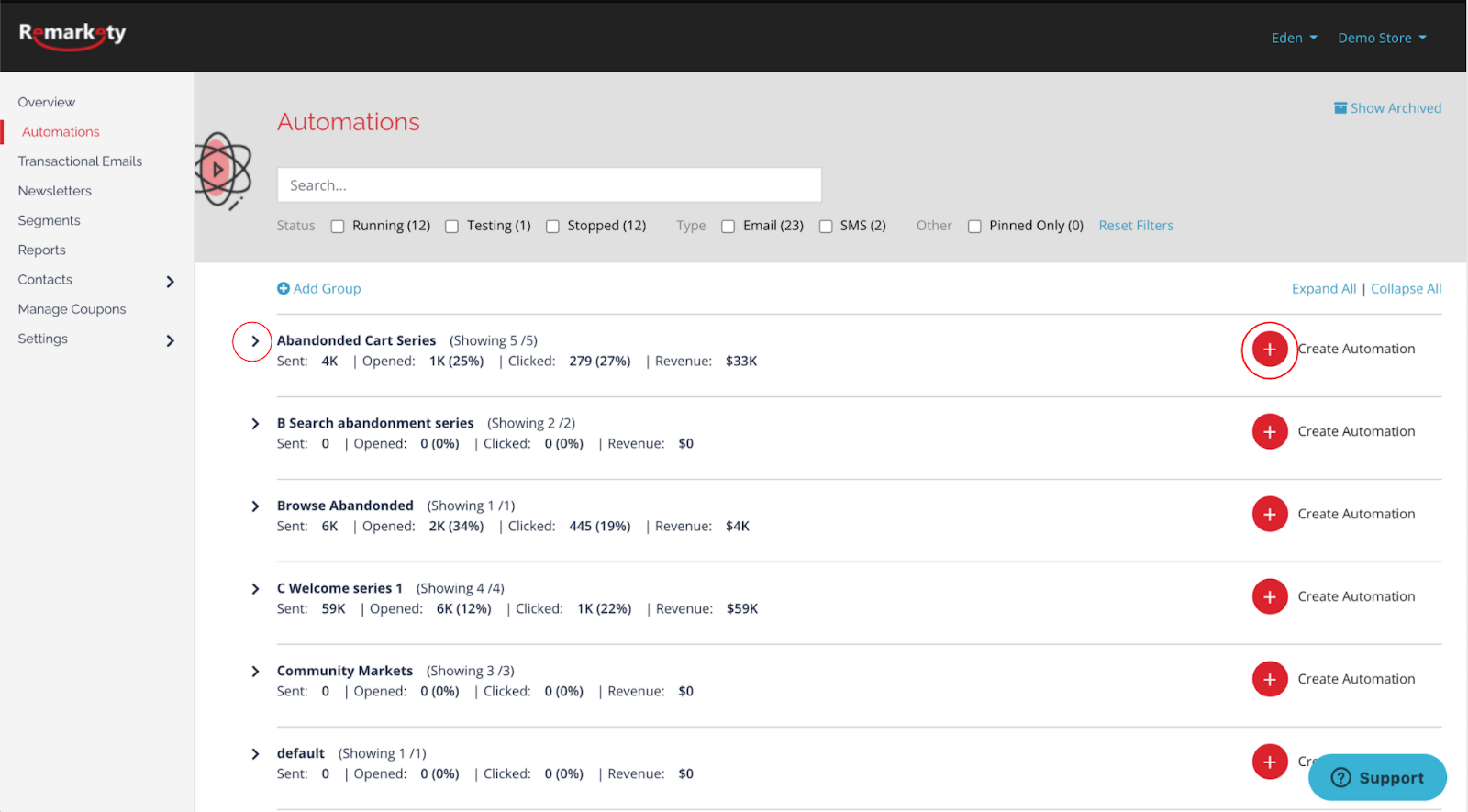 The rows above show different automation groups. To see more details about the group's individual campaigns, click on the arrow to the left of the row (circled in red on the top row). To create a new automation in a group, select the red plus sign on the right side (also circled in red on the top row). If you do not create specialized automation groups, they will all be placed together in the same "default" row.
Newsletters
Lets you send a one-time blast to your customers. You can send a newsletter immediately, or schedule it for later. Clicking this section from the navigation bar brings you to the page to review past and current newsletters and drafts. It also offers space for creating more.
As in the Automations page, get more information on the newsletters in the groups by clicking on the arrow to the left of the row. To create a new newsletter, click the red plus signs at the top.
When sending any automation or newsletter you should segment the population that will receive it. Which leads us to the next item.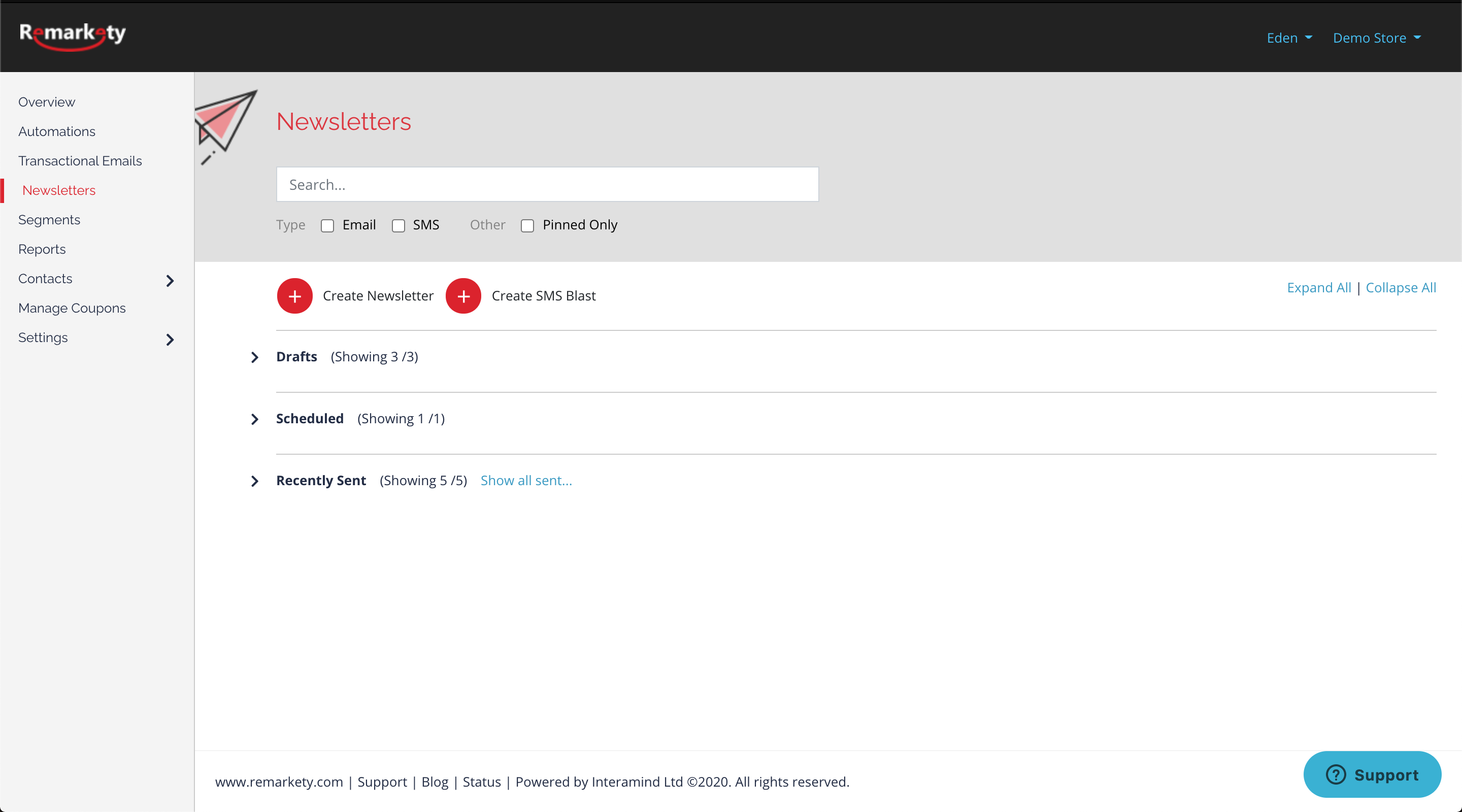 Segments
A dynamic list that can be based on multiple conditions relating to your customer's personal information or interaction with your store, like previous purchase history, customer demographic information, and email engagement. It ensures that the information sent out is relevant to each individual subscriber.

Clicking the Segments tab from the navigation menu brings you to saved dynamic segment lists. When sending any email or SMS from Remarkety, you can customize the segments directly on the campaign or newsletter, or you can create the list from this Segments tab to save it and reuse it for multiple campaigns.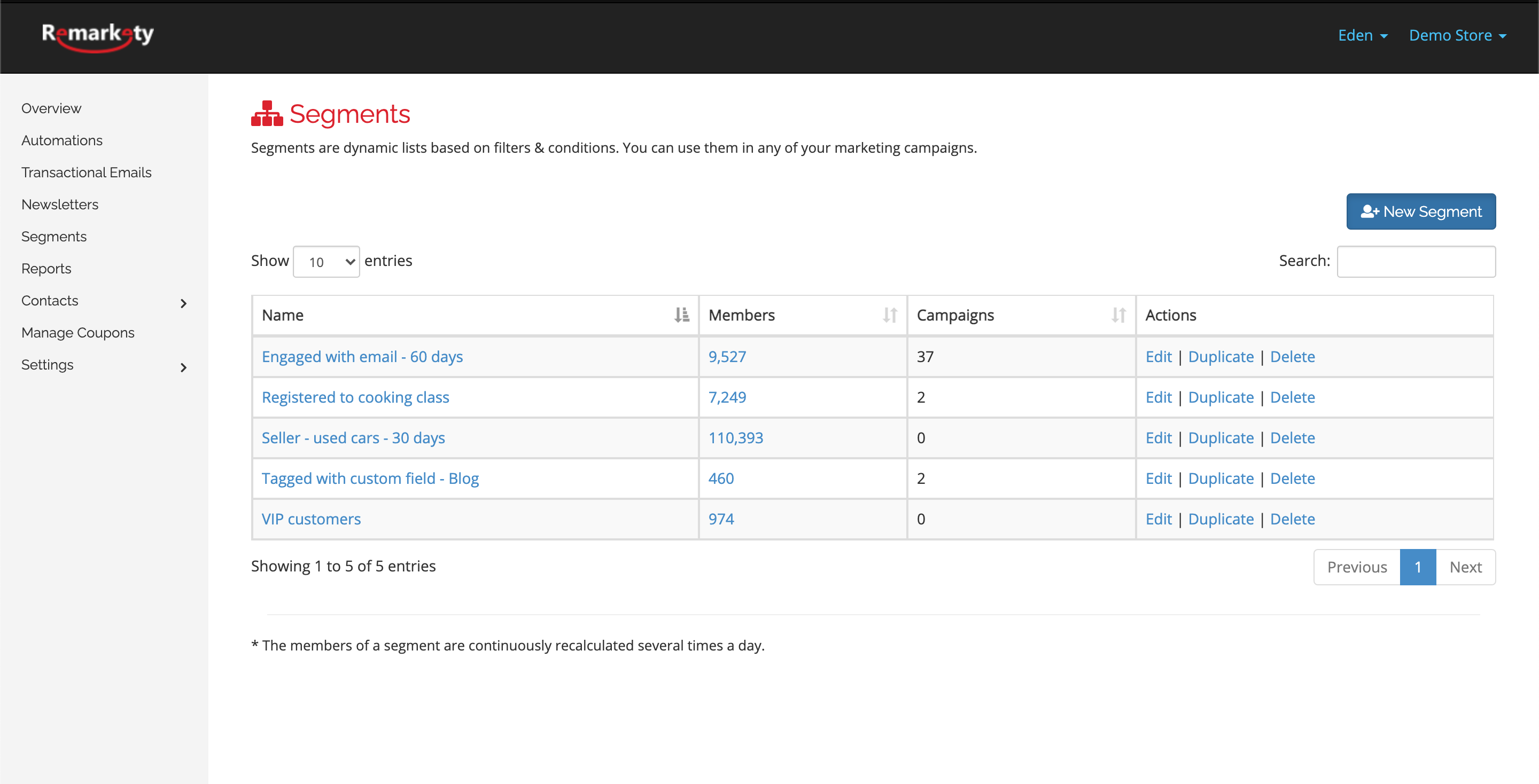 Reports
Where you'll find the most detailed information about campaign performance. It breaks down different data metrics from your past and current campaigns, and it organizes the data across different date spans. You can access data aggregates or individual statistics as they relate to generated revenue, email open rate, click rate and conversion rate, and more. Check out the View Reports in this course for more detailed information about Remarkety's reports features.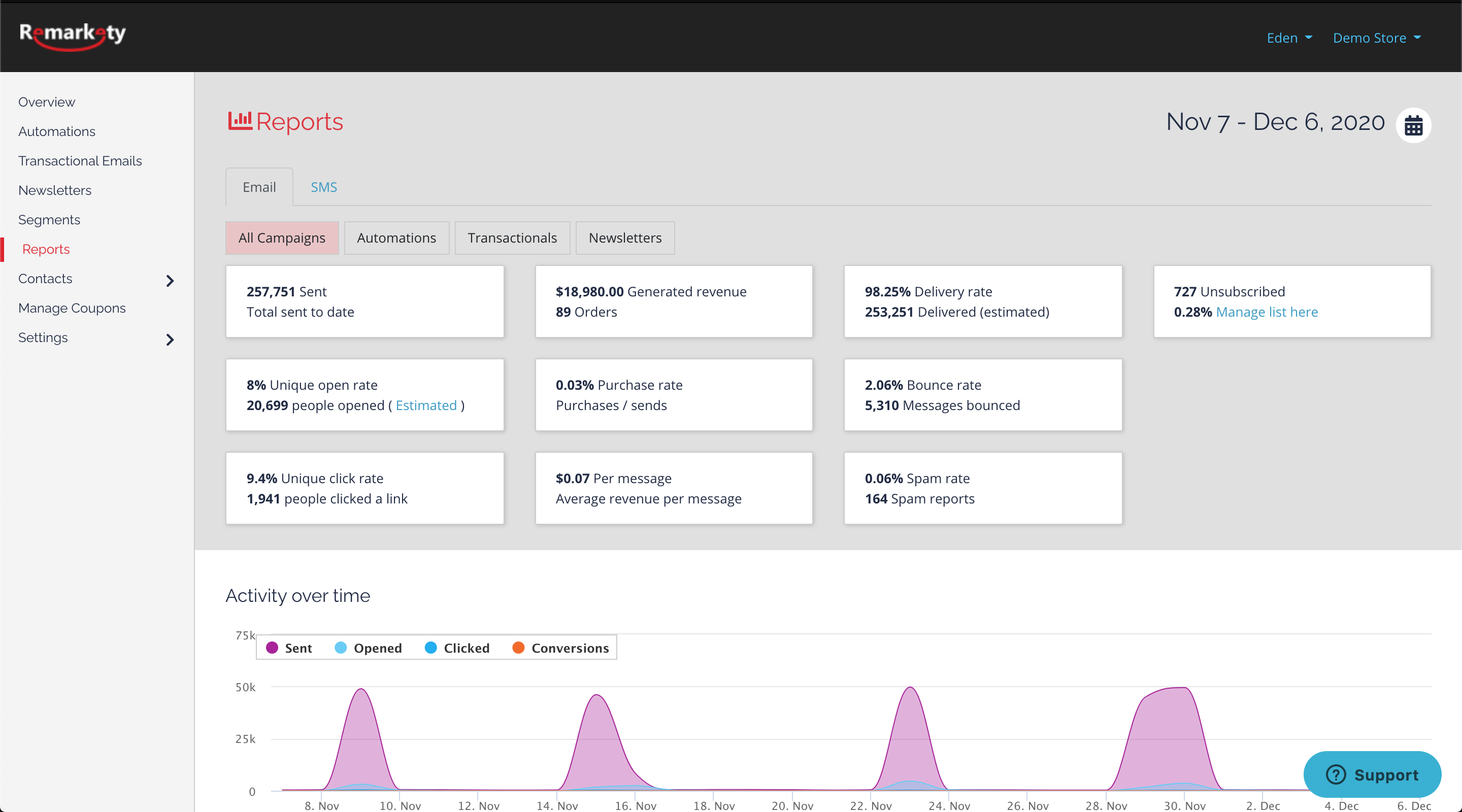 Contacts
Allows you to easily manage different aspects of customer information, collection sites, and more. Here are some of the categories you can control.
Manage Contacts

shows a list of your store's contacts and can be filtered or searched when looking for someone or something specific.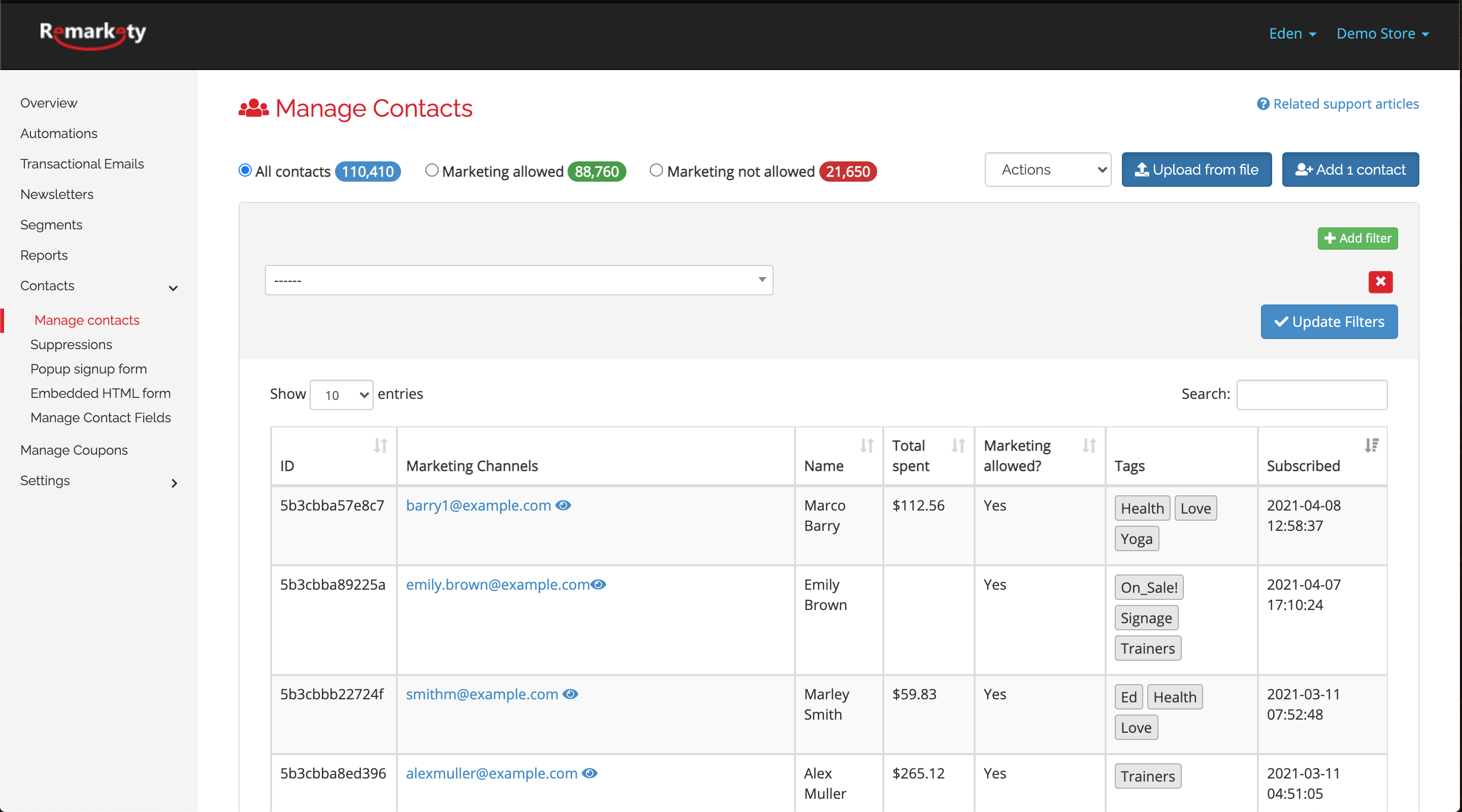 Suppressions

show the members of your contact list that

will not

receive any email or SMS messages. The contacts included in your suppressions appear here for a variety of reasons including unsubscribing, hard & soft bounces, and pending opt-in agreement. Suppressed contacts do not count towards your billing.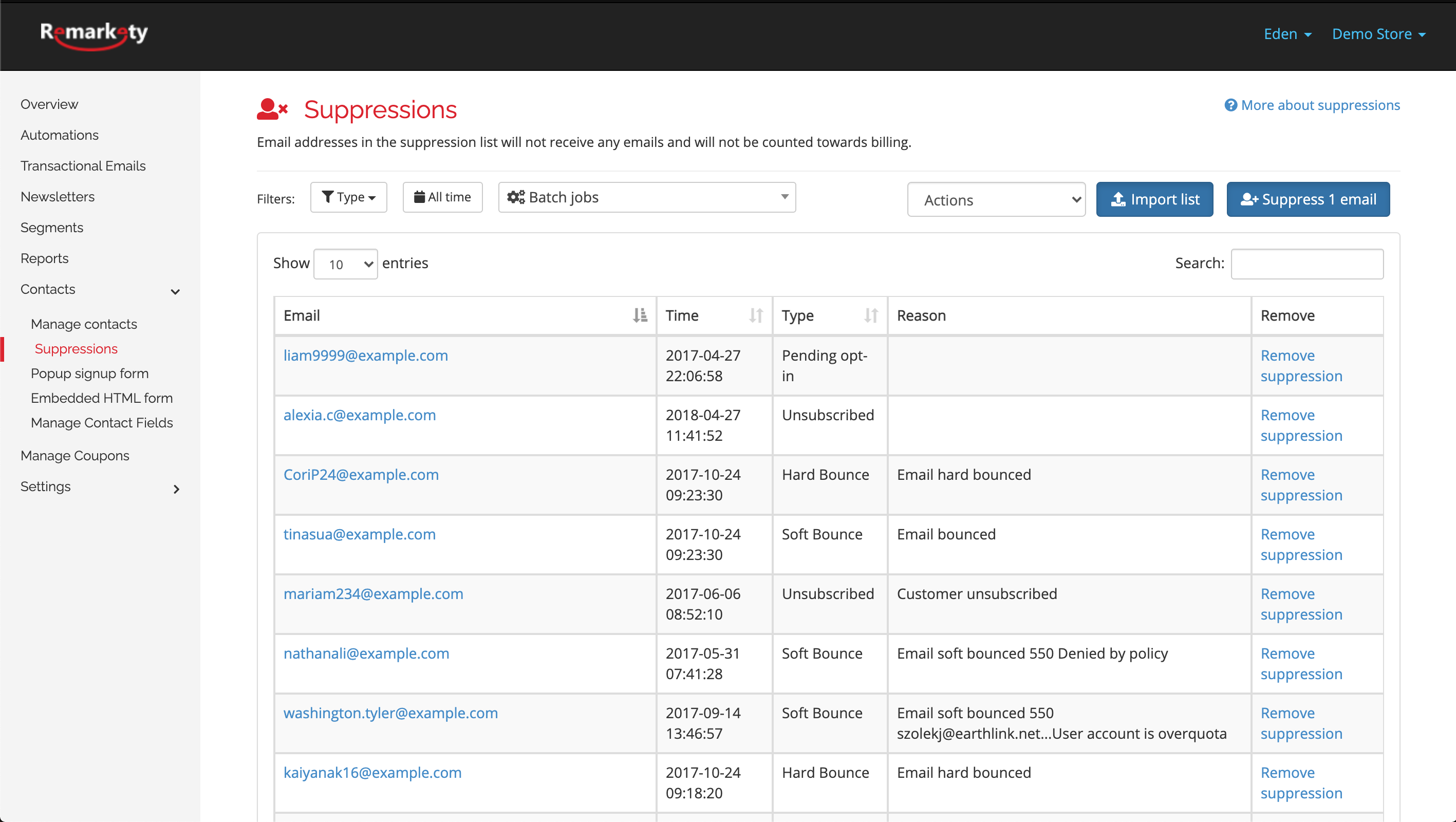 Popup signup form allows you to create and design a free signup form that is specially designed for our customers.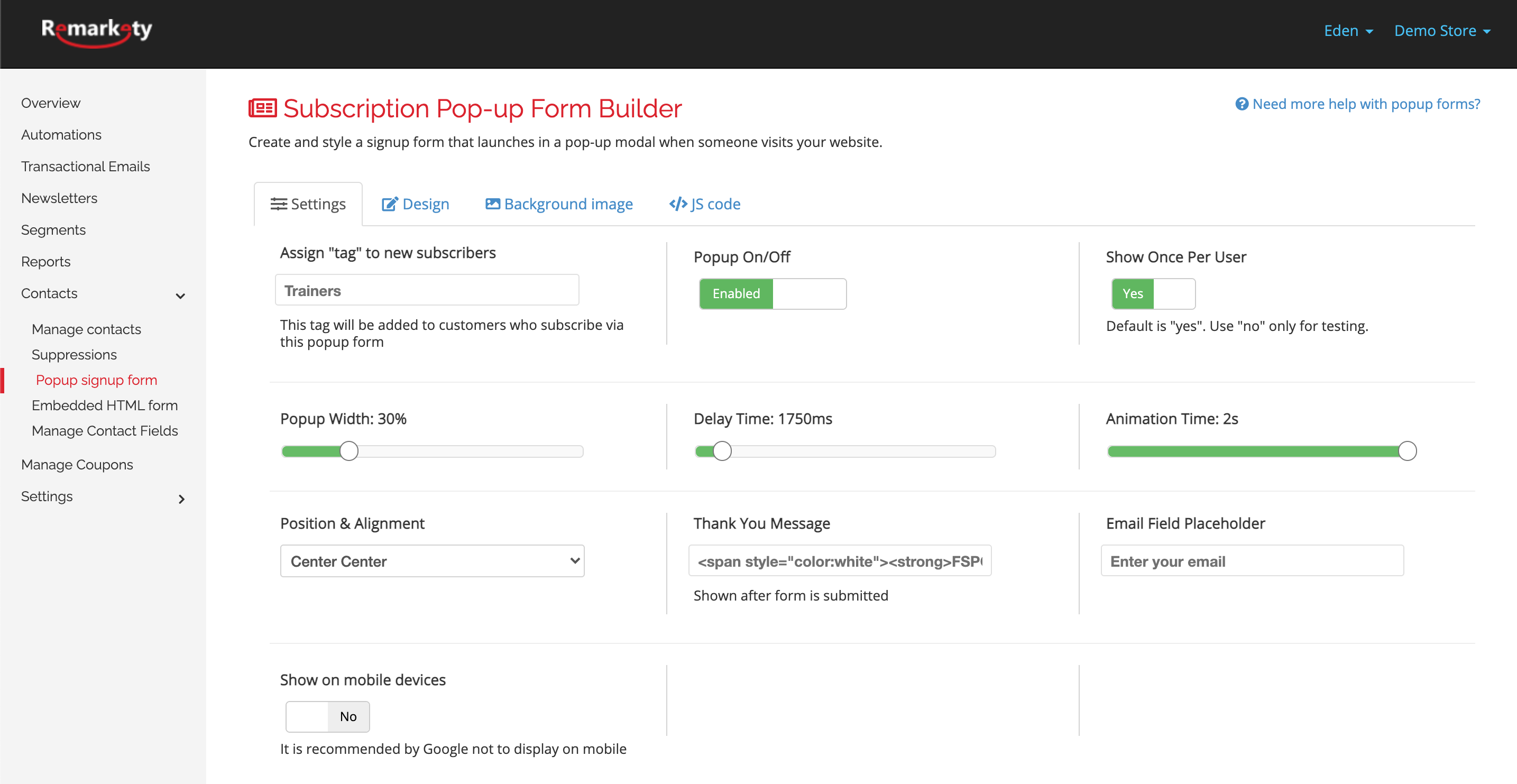 Embedded HTML Form

provides HTML code to create different types of free forms and pages for your website. Form options are: Thank you page, opt-in email, confirm thank you page, opt-out email, unsubscribe, anti-spam, and sign up.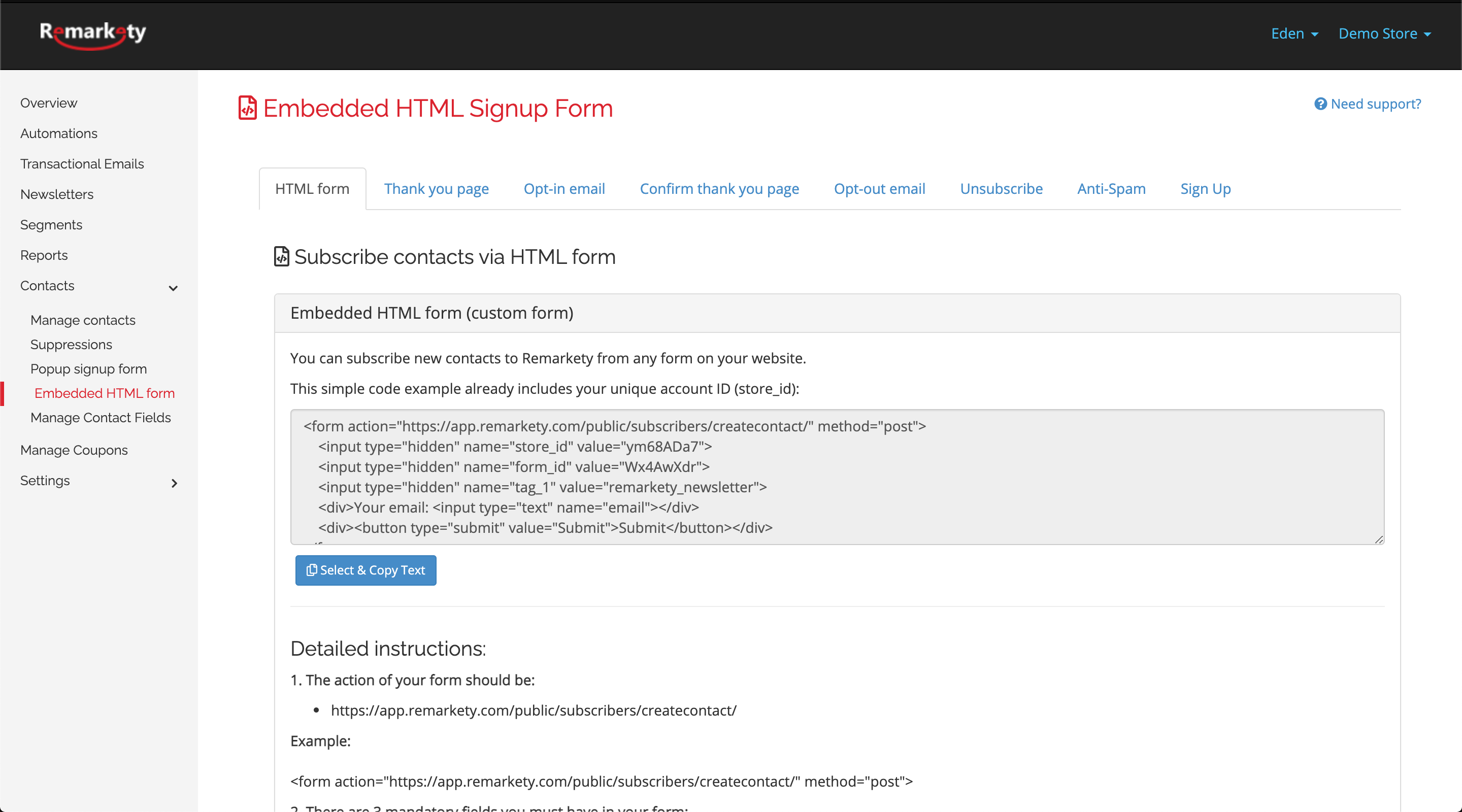 Manage Contacts Fields

shows the different fields Remarkety will recognize from your contacts. There is a series of built in fields, like name, address, age, birthdate, and more. There is also the option to create your own custom fields for collecting customer information.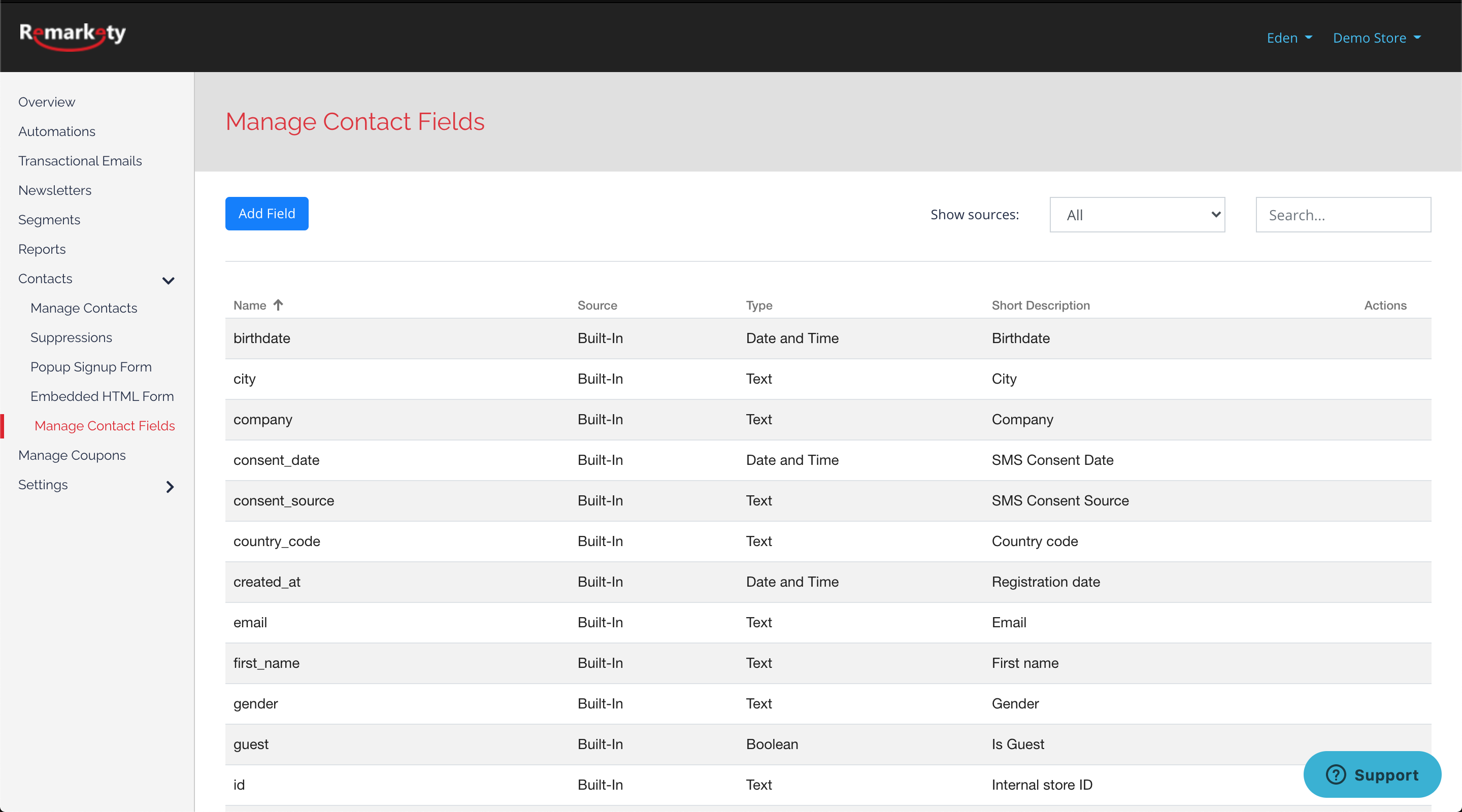 Manage Coupons
Lets you upload and regulate the coupons you send to subscribers. To send shoppers single-use or daily coupons, upload a pre-generated coupon code list to this page. A single-use coupon is one that will be used, at most, one time. If a single-use code is used, it will not be sent to another subscriber. A daily coupon is one that will be sent to all subscribers on a specific date.

This is also where you find lists of all your existing coupons and where you can easily create a new list by uploading a CSV file of your codes. You can take a deeper dive into generating coupon codes and uploading them to the platform from Remarkety's support page.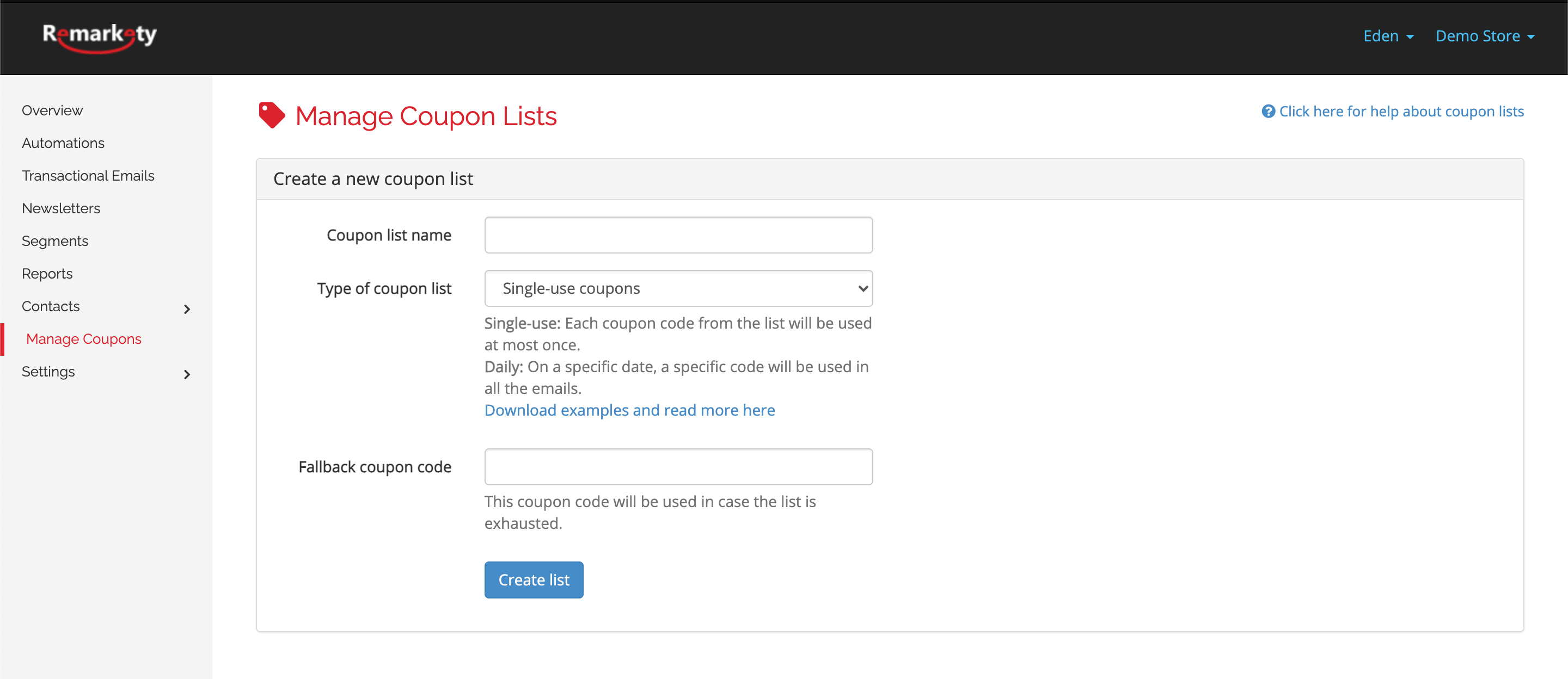 Settings
Where you manage your account settings in closer detail. Categories include:
Connection


Set your store's connection to Remarkety.

Store Info


Define basics such as store name, address, email address, currency, logo, and more.

Product Recommendations


Refine the product recommendations your customers will see in email campaigns.

Integrations


See optional services that easily integrate with Remarkety and whether or not they have been set up for your account.

API Keys


Includes your store ID and allows you to generate a new token code for integrating with external systems.

Website Tracking


Get instructions and check your status for setting up website tracking.

We'll cover this more in depth in the next section of this course.
Users Management


Define active users who will have access to your store's Remarkety account

Webhooks


See the time, event, and details of every webhook. Webhooks allow Remarkety and its integrated platforms (like Shopify and Facebook) to communicate with each other and react in real-time. For example, if a customer places an order on your Shopify store, Shopify will send a webhook so that Remarkety can save the order information and send out the relevant email to the customer.

Products Feed


Define which products Remarkety should use for recommendations and other features. For most accounts this is automatically updated using our API.

SMS Settings


See your SMS credit balance, change your Reputation Guard Settings (to ensure customers receive messages only at certain times of day and are not bombarded with messages), and customize your automated SMS responses.

Support


Browse our support reference library

Store Info > Settings > Plans & Billing
One more accessible account setting feature not listed in the Settings dropdown menu is Plans & Billing information. This page shows the status of your current plan (active/inactive), the size of your billable contact list, plan upgrade options, and plan usage since your last billing cycle. This page is also where you can manage your billing and payment methods and cancel your plan should you choose to. To access this page, click Store Info under the Settings drop down menu and find Plans & Billing as the right-most tab on the top of the page below Account Settings.