Abandoned cart campaigns are highly efficient and high performing across all sectors. They are therefore the perfect way to start using automated marketing.
This campaign targets shoppers who started the checkout process but did not finish the transaction. Abandoned cart automation aims to convert* lost sales by reminding customers about their interest in your products.
This is a "set it and forget it" automation. Once it's up and running, your store will net conversions while you put your attention elsewhere.
Strategy
We recommend sending the abandoned cart sequence in a series of 3 emails: The first to be sent out 1 hour after the cart was abandoned, the second to be sent 24 hours later, and the third to be sent 48 hours after** the initial abandonment.
Set up Email 1
Follow the steps below to set up your first automation with Remarkety.
1. Click Automations from Remarkety's navigation menu. Click Add Automation to directly create the automation and have it added to a default group. Or select Add Group to create a special row for your new series and then Add Automation from there. Find and select the Abandoned Cart automation.

2. This brings you to the Setup stage in the template editor.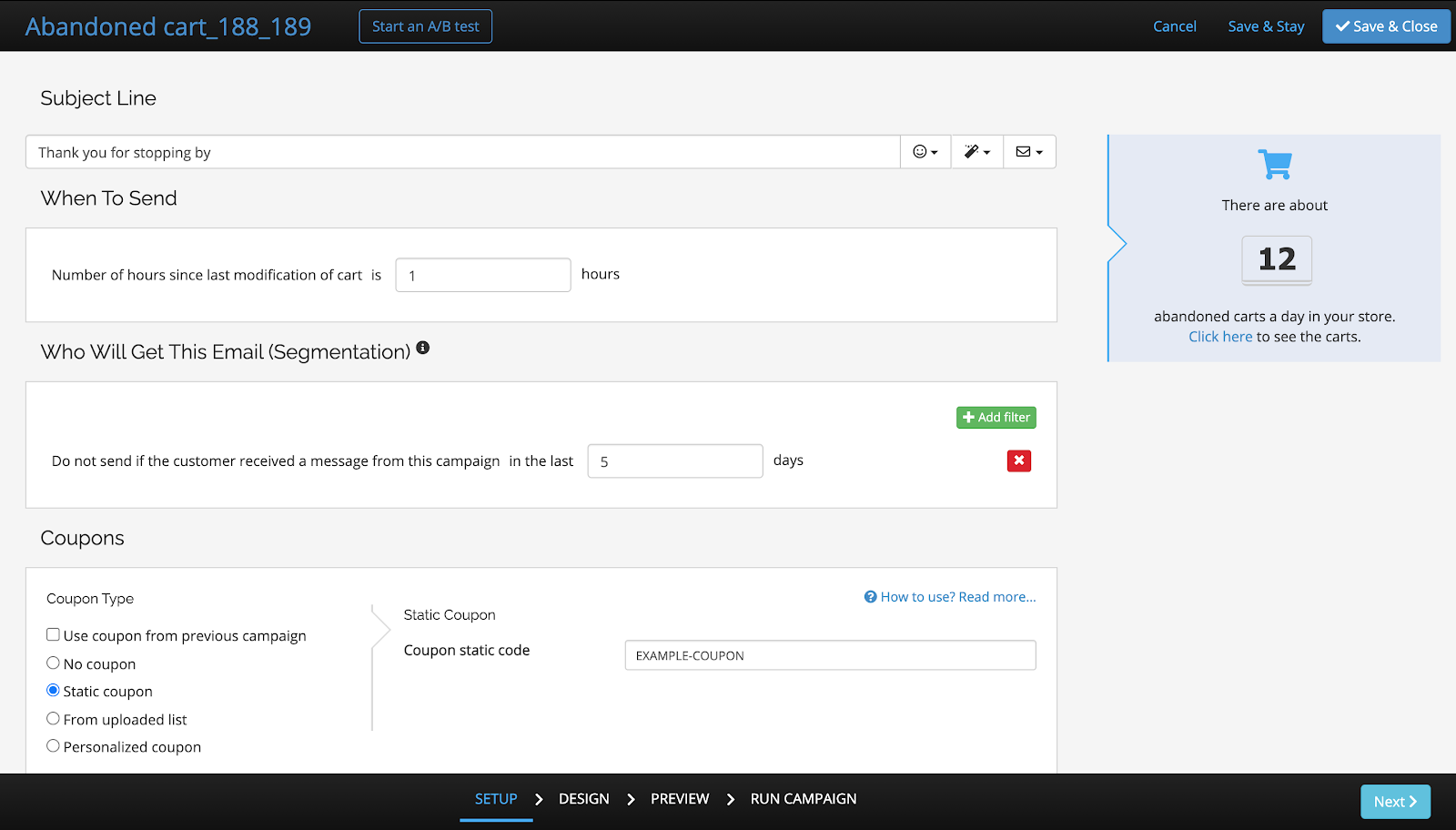 Subject line

: Write the subject you want to appear in your customers' inboxes. We recommend using puns, names, or emojis to grab your customers' attention.

When to send:

The auto setting and our recommendation for this is 1 hour. This way customers have time to continue browsing your website and add more items to their carts, while it will still be fresh in their minds.

Who will get the email:

We don't recommend adding any other segments to your first abandoned cart. There is always an option to add specific segments that could be useful depending on what deals you want to offer to customers (for example, based on how much they are spending) but

for your first automation this is not necessary

.

Product recommendations: You can also choose to add coupons and product recommendations in this automation.
When you're done, look for the black banner on the bottom of the page and click the blue Next on the bottom right side, or Design on the bottom black banner. Both buttons will bring you to the next step in the campaign creation process.

3. Design your email. We recommend using your store's signature colors and including its logo to match your website. This is where your brand's personality can shine through so have fun with it!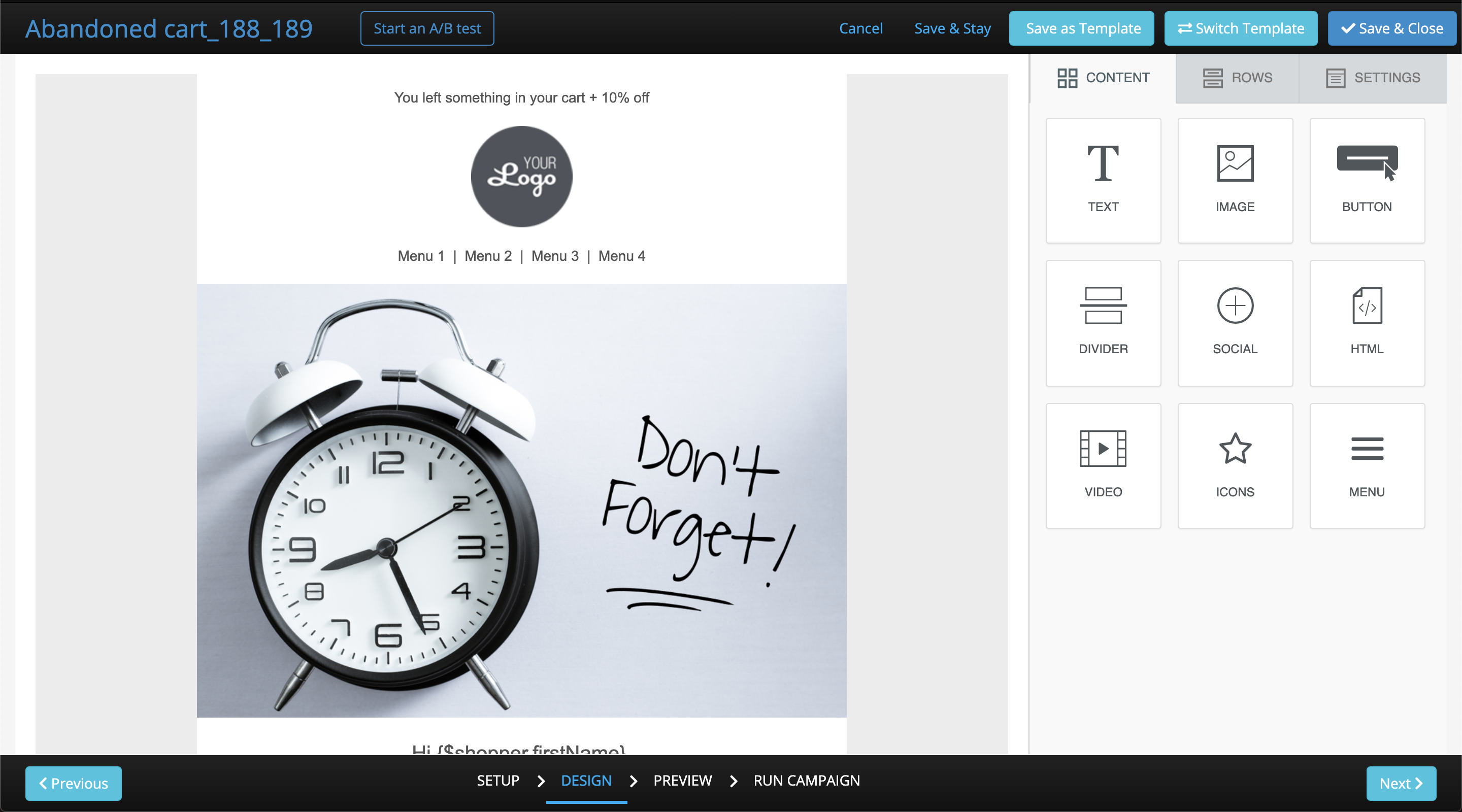 4. Click either Next or Preview in the bottom black banner to view the campaign as your customers would see it.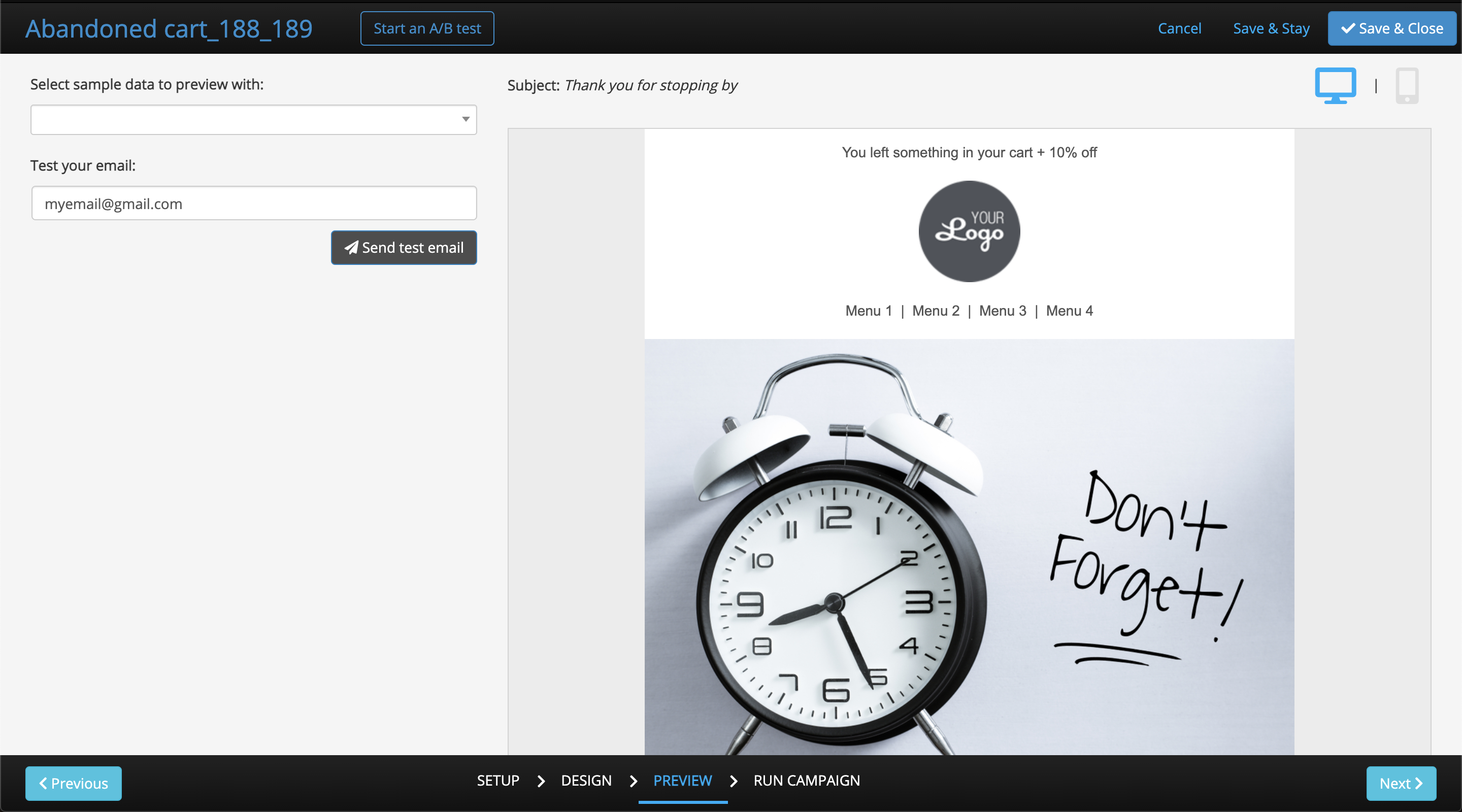 5. Once you check over the email preview and decide you like it, click Run on the next page, and you are ready to go! You can always come back and edit the campaign by changing the design, the audience, or any other aspect. This campaign will continue to run automatically until you come back and manually stop it.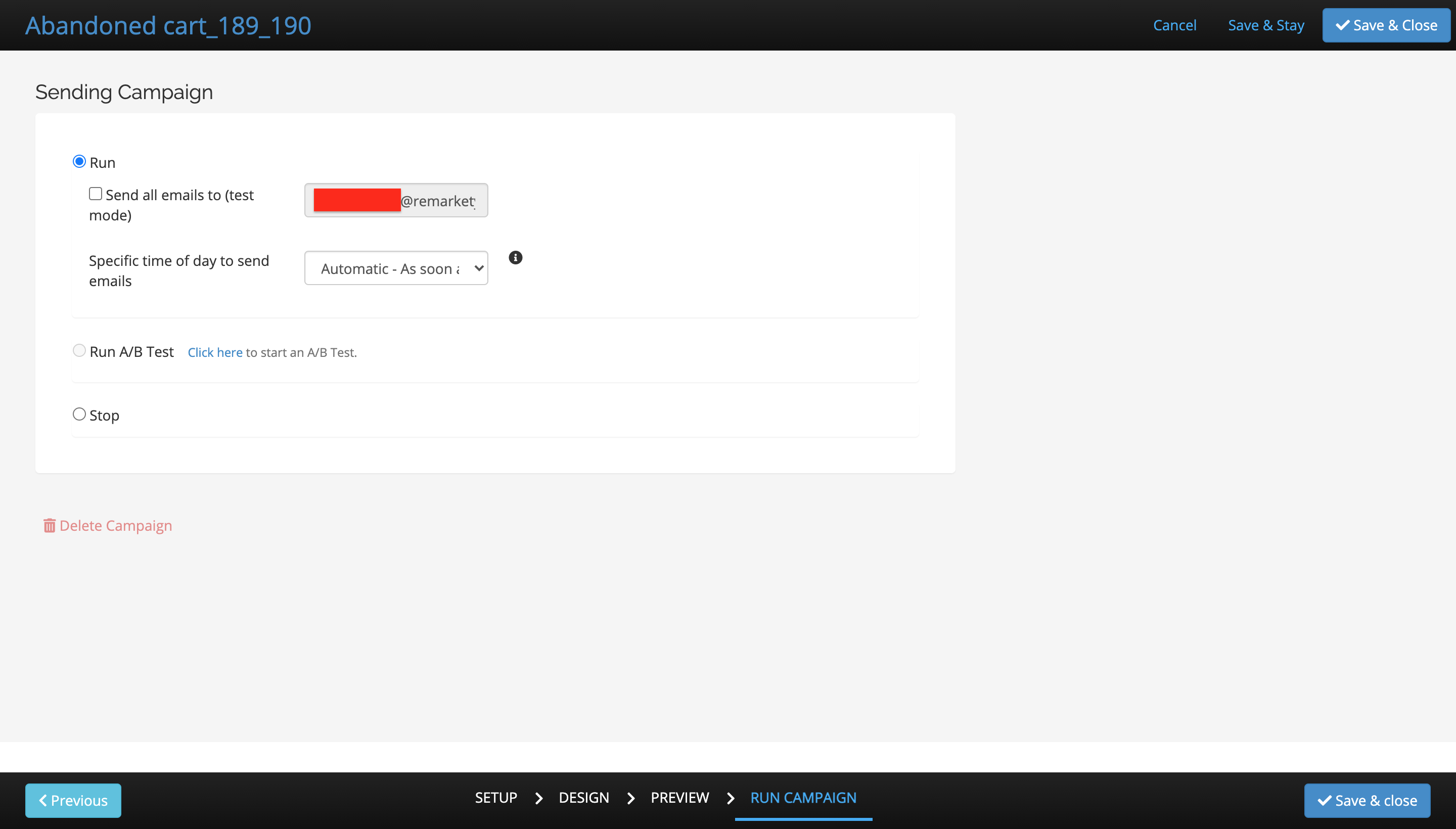 At any point you can stop and save the changes you made to a campaign by clicking the Save & Close button at the top right of the template editor.

For more information on using the template editor, click here.
Congratulations on setting up the first abandoned cart email in the campaign! Two more to go. One to be sent out 24 hours after the cart was abandoned and another to go out after 48 hours. Since they're basically duplicates of this one, they'll be a lot faster to create. Here's how.
Set up Email 2
1. In the Automations section of your Remarkety account, you will now see the initial abandoned cart email that you just created. To set up the next email, click the menu bar on the top left corner of the campaign box and press Duplicate.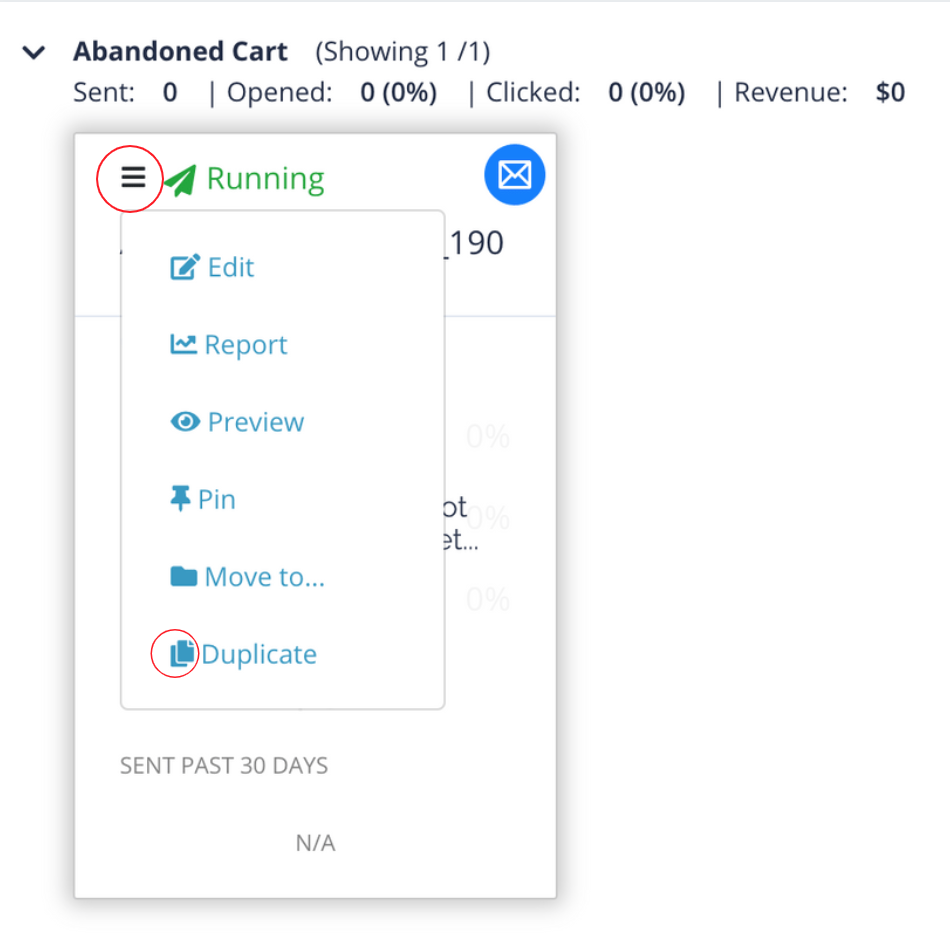 2. In the set up page of the duplicate email, change the When to send setting from 1 hour to 24 hours. This is the key change that will affect when customers receive the email: 24 hours after abandoning their cart.

3. Change any other settings you want. Since you duplicated the campaign, the design settings will be the same as the earlier email. We recommend changing the subject line, for example, as this will capture the attention of customers who missed the first email in the sequence.
4. Preview and run the campaign as you did with the earlier email.
Set up Email 3
To set up the 48 hour email, follow the same steps listed above, making sure to change the When to send setting from 24 hours to 48 hours.
Bonus: Set Up a Limited Time Coupon
Remarkety's integrations allow you to create personalized limited-time coupons. This means that you can create a single-use coupon to use in your store and send it in any campaign of your choosing. Every single customer that receives a coupon is given a unique code to help avoid coupon abuse.
You can include these coupons in any type of campaign on Remarkety: automations or newsletters via both email and SMS. Feel free to include these in your Abandoned Cart campaigns since customers love an incentive to shop :)
Each eCommerce integration platform has its own method for creating these types of coupons. Click on your store's platform for more info***.
Magento
Magento 2
Prestashop
Shopify
* Something is counted as a "conversion" when a new purchase is made considering certain restrictions. Remarkety tracks purchases through contacts' unique email addresses (not through cookies). If a customer opens an email you sent and/or clicks a link associated with that email and then makes a purchase within 5 days, it will be counted as a conversion according to our attribution model. Because Remarkety tracks conversions through email addresses, it allows us to monitor purchases made across different devices and at different times.
** If in the span of the 48 hours a purchase was made or the cart vanishes for some other reason, the rest of the emails in the sequence will not be sent. This protects you from sending an irrelevant email.
***Remarkety's integration with Yahoo Small Business and OpenCart does not support personalized, time-limited coupons.
Next up is learning to read campaign reports. Keep following along Remarkety Academy's Getting Started Guide.