DNS records are basically mapping records that tell the DNS server which IP address each domain is associated with, and how to handle requests sent to each domain.
Before you start sending out promotional email campaigns to your mailing list, it is recommended to complete the following steps, below. These steps will help improve deliverability rate and will increase the chances of maximizing the potential of your mailing list.
Setting up DNS records is a very important verification step, and will contribute to your overall email deliverability.
Once you are done with the process on your side, we will need to verify the settings on our end.

Once set up, your emails will be recognized by the email platforms (Gmail, Outlook, etc.), and can verify that it is coming from an authorized source.
A white-labeled account will also remove the "via Remarkety" from the emails sent from your account.
To set up your DNS Records:
1. Contact support@remarkety.com to send you the DNS setup instructions. In the email, you should mention the domain name you wish to have white-labeled, and the "send from" email you are planning to send your promotional emails from.
2. Shortly after contacting Remarkety's support team, you should receive an email with detailed DNS setup instructions. For example: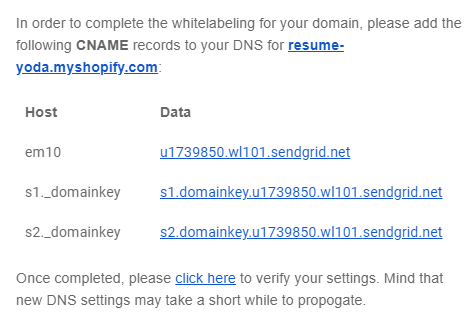 3. Once receiving the instructions email, paste the DNS records in your hosting service's DNS page.
* There are many web hosting companies that you can choose from for your domain (GoDaddy, WP Engine, Bluehost, etc.). We recommend you advise your technical team in order to understand how to set up the records in your DNS page, correctly.
** In some cases, the hosting service will ask for a TTL (Time to live) figure.
Time to Live should be the default 30 seconds to 5 minutes, but it does really matter.
4. Once completed setting up the DNS records in your hosting platforms, notify Remarkety's support team to verify the white-labeled domain for this store on their end.
You can check if your DNS records are verified in Remarkety from your deliverability page.
*** The link to the deliverability settings page is available in the DNS setup instructions email you received from Remarkety.
For additional information on how to white-label your domain, contact support@remarkety.com