The new Remarkety dashboard is designed to do an even better job of meeting the needs of Ecommerce stores. In addition to a new look and feel, new features have been added to ensure users fully optimize their campaigns and generate the most revenue possible for their store. Increased efficiency and increased revenue are what it's all about. Below is a run down of some of the new features you need to know about to get started.
Navigation Menu
First up is a new navigation menu developed to make it easier to access all the tools and features Remarkety has to offer including reports, contacts, coupon management, and account settings.
The navigation menu also offers quick access to your campaigns. Remarkety distinguishes between two types of email marketing campaigns; Automations and Newsletters. Automations are ongoing campaigns (flows). Newsletters are a one time blast that can be sent immediately or scheduled for a later time.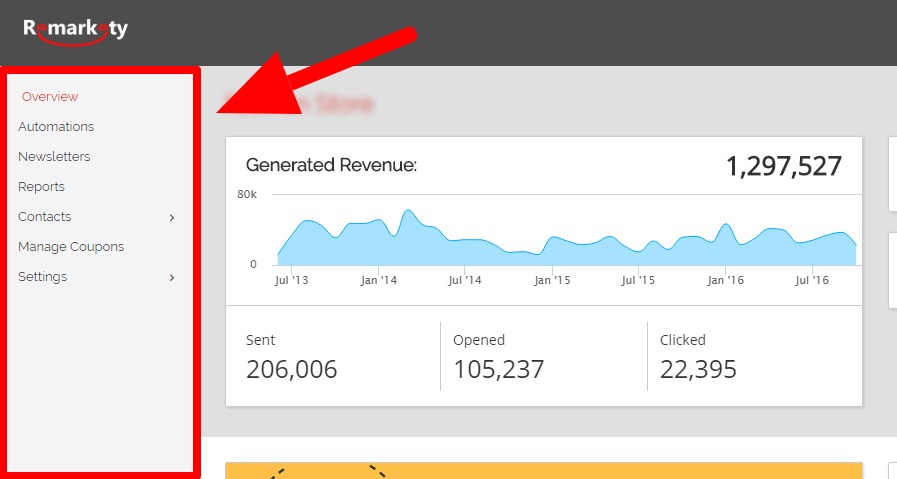 Overview Page (Dashboard)
When you access Remarket 3.0 you will first notice a shiny new overview page. This page is all about giving you a quick snapshot of your campaign performance and conversions. Here are some highlights we don't want you to miss:
Date-picker
A date-picker has been added to the overview page so you can easily view your metrics by time period. There are a number of pre-set ranges such as last 7 days, last 30 days, year to date, and an option to choose a custom date range. Stats will refresh automatically when you choose a time period.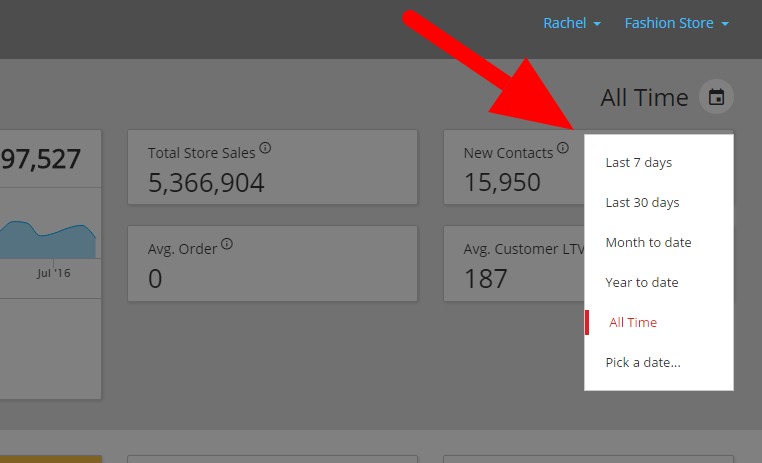 Trends by Time Period
Remarkety has also added trend statistics to each of the key metrics on your overview page. The trends by time period stat allows you to easily see changes from the last time period you've selected. Trend statistics will change automatically when you choose a new time range.

Generated Revenue Graph
Remarkety is a revenue oriented platform that focuses on making more money for businesses by increasing sales and extending customer lifetime value. When visiting your dashboard, the first thing you will see is a generated revenue graph to better track your campaign conversions. The graph automatically updates by the selected time period and you can hover over specific dates to quickly see generated revenue for that time.

Creating New Campaigns
Wondering what awesome email to send next? Getting up and running with a fresh campaign is now even easier. New automations and newsletters can be opened right from the dashboard.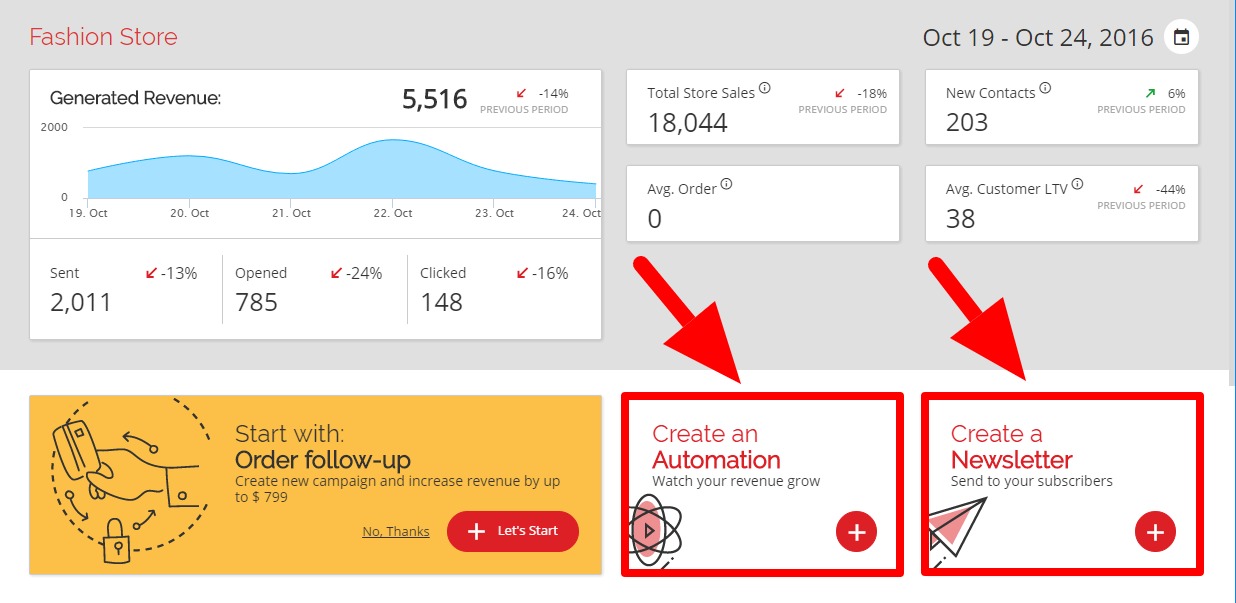 When creating a new automation, you will first choose from a list of Remarkety's pre-segmented campaigns. From there, you can add additional smart segmentation to further customize the campaign and target specific customer groups.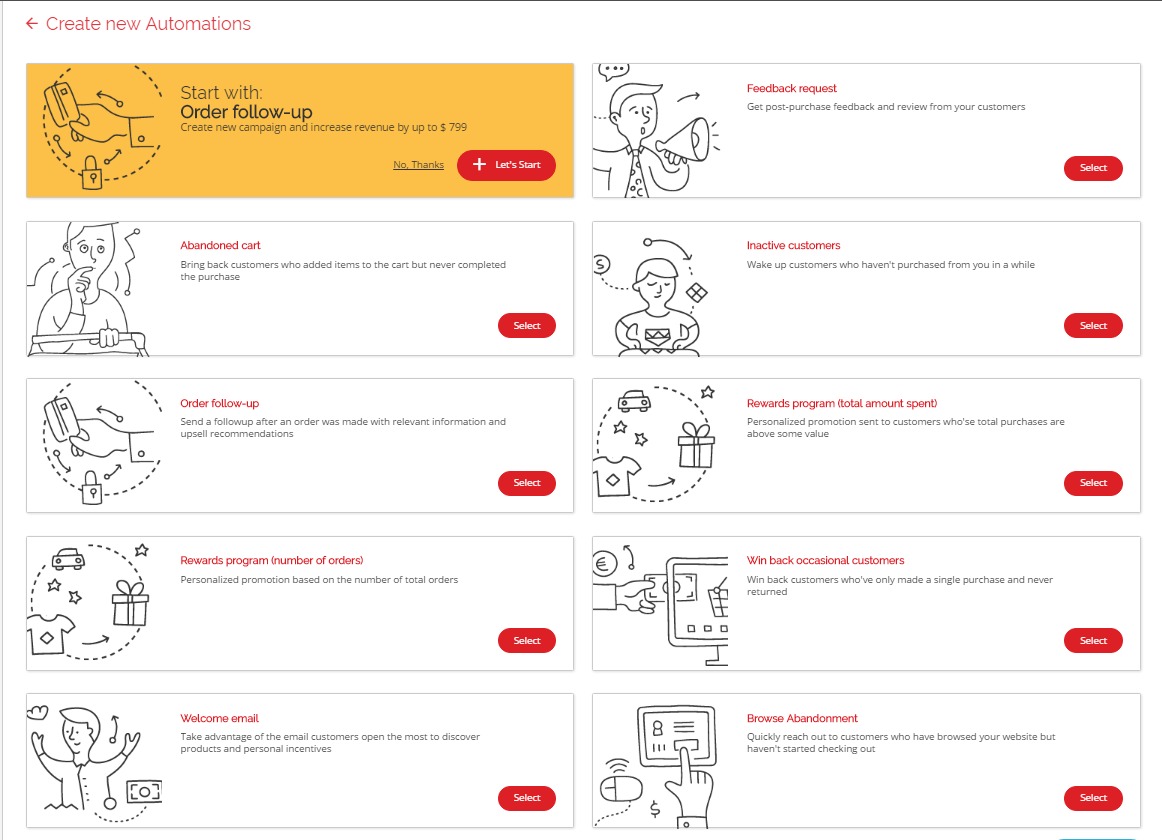 Managing Campaigns
Ask and you shall receive. Many Remarkety users have requested a different way to manage individual campaigns and campaign flows. Now you can!
Quick-Action Menus
Two new menus have been added to the campaigns themselves, one for quick-actions and one for delivery status. These actions can be done straight from the menu without any need to open the campaign.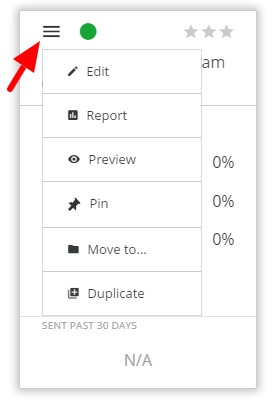 Sorting Campaigns with Drag & Drop
You now have the option to sort campaigns manually. To do this, you will simply select, drag, and drop wherever you'd like.
Group Campaigns
In addition to sorting campaigns via drag and drop, you can now add custom groups for your campaigns. Grouping campaigns allows you to better track email flows and view statistics per campaign type or strategy. For example, create an "Abandon Cart Flow" group for your abandon cart campaigns or a "Holiday" group for your holiday-related newsletters.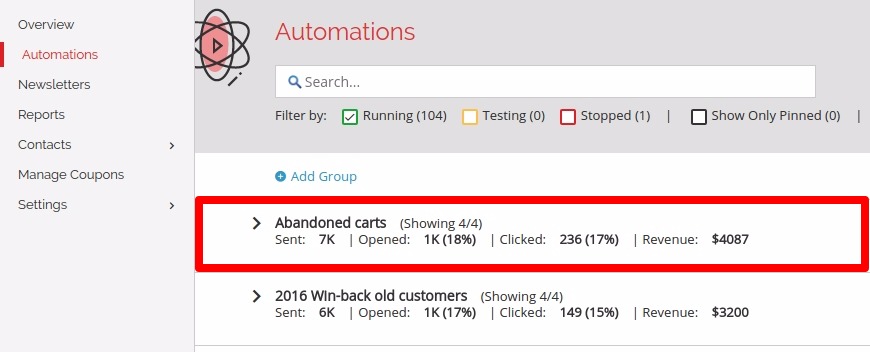 To create a new group you will simply select "Add Group". You will then be prompted to add a name for the new group. For easy viewing, you have the option to expand or collapse all campaign groups.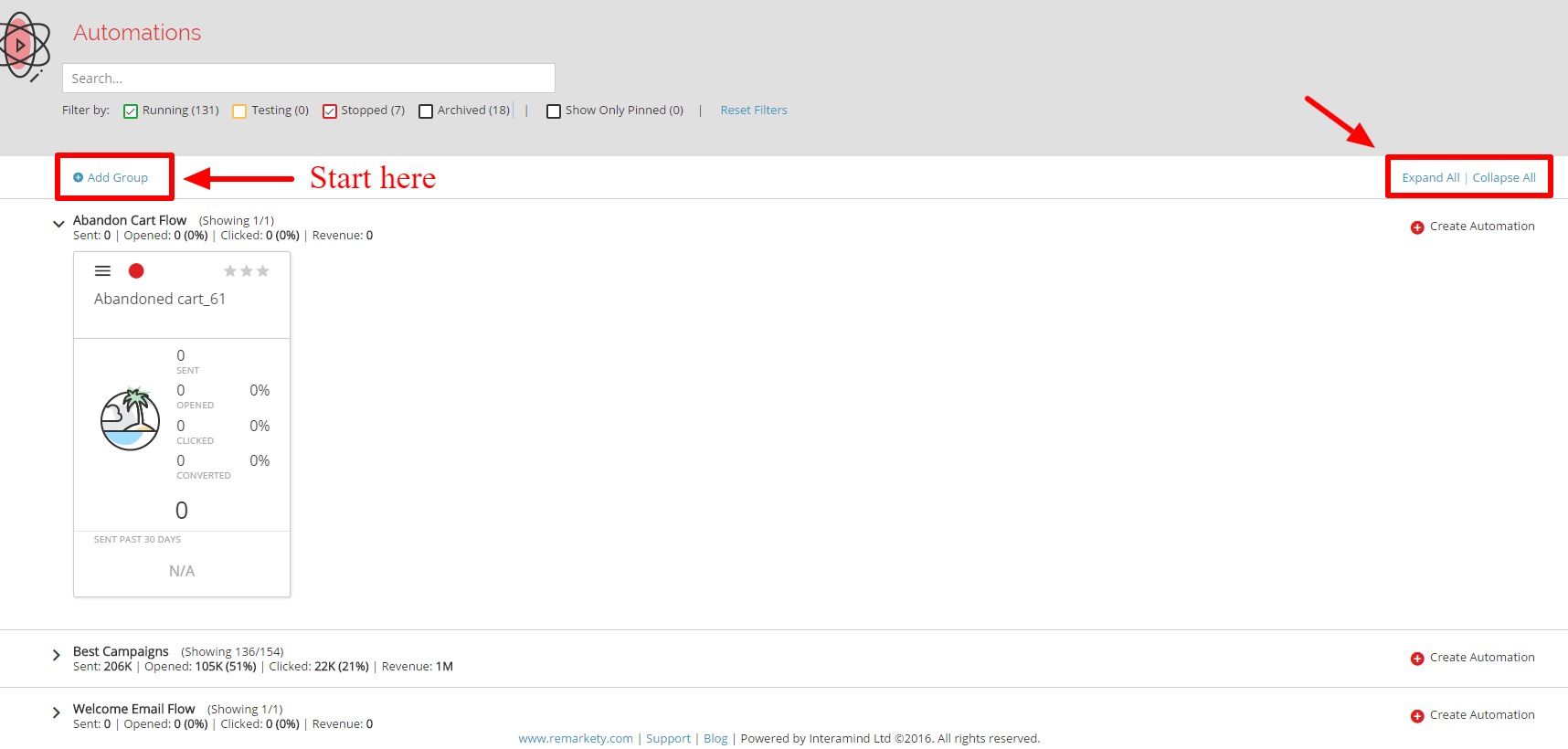 You are now all set to create new campaigns within the group or move an existing campaigns via the campaign quick-action menu.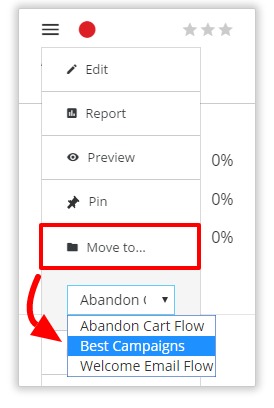 If you do not add any custom campaign groups, all campaign will be saved under a "default" group.
Filter and Search
New campaign filters offer greater flexibility in viewing. In addition to being able to choose one or more viewing filters, there is also an option pin your favorites. This feature is especially great for users who have created and sent many newsletters over time.

Archive Campaigns
You now have an option to archive campaigns you are no longer running or newsletters that have been sent. This feature was added to make app performance even faster as well as to help you concentrate on your most relevant campaigns. If you've deleted campaigns within previous versions of Remarkety, they will now be saved as archived in 3.0. Campaigns can be archived via the campaign quick-action menu. Once archived, you will have the option to restore campaigns.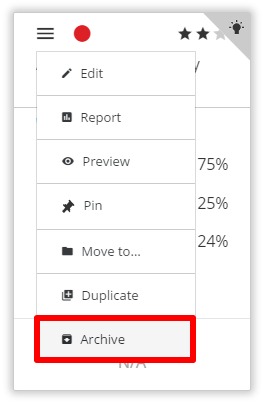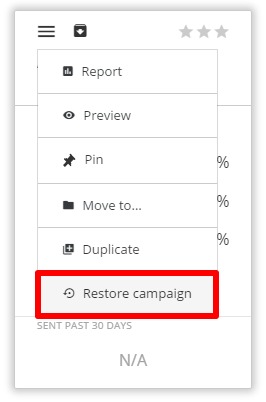 Campaign Recommendations Just for You
Don't have the time to assess what campaign you should create next? Don't worry! In addition to the awesome marketing and fine-tuning recommendations you're familiar with, Remarkety will now also recommend new campaigns to create based on previous campaign performance and store data. Even better, these recommendations will provide you with an estimation of the revenue you should expect to see over the next month of running this campaign.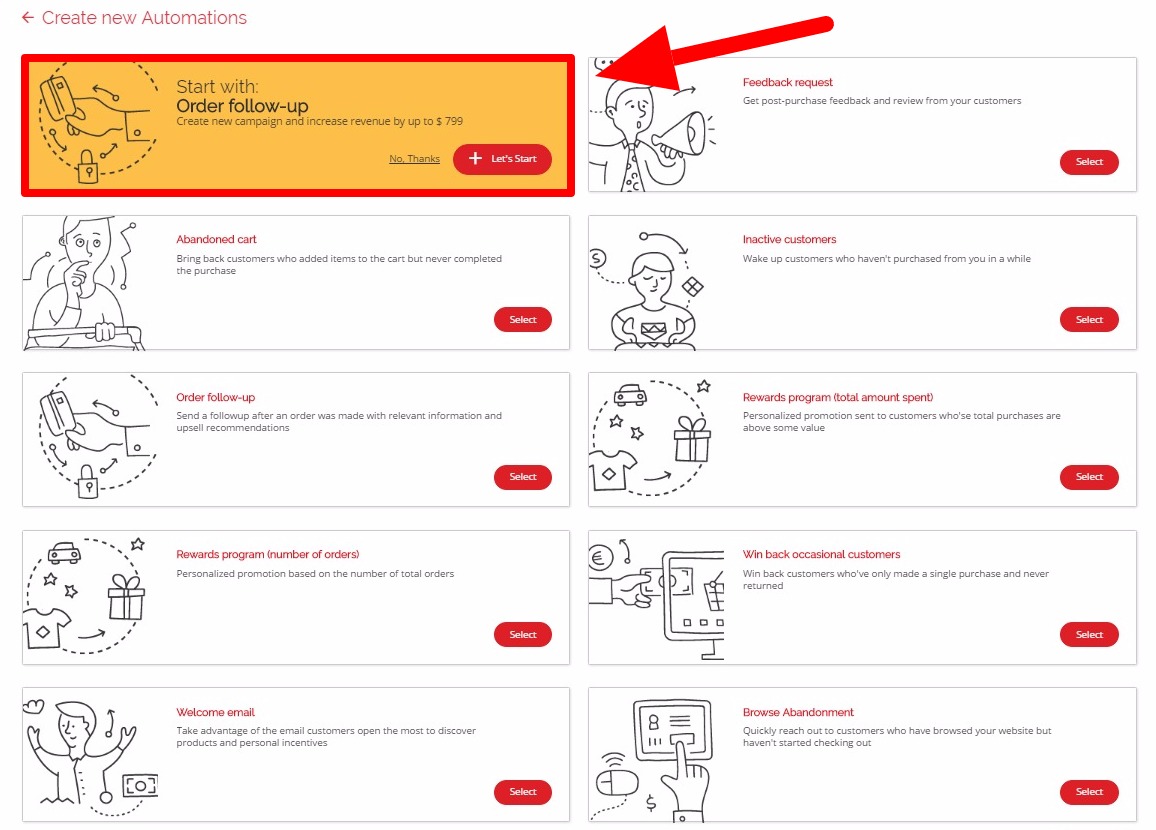 Reporting
Reporting just got a face lift. It's now easier than ever to see conversions and track opens, clicks, bounces, and spam reports. The new reporting tables and graphs are even more robust with easy to use viewing options. Lastly, exporting data has also been improved with even quicker download speeds.
Filter and Sort
Reporting can be filtered into three different views; all campaigns, automations, and newsletters. From there, you have the option to further refine via the campaign status filters.

Reporting tables now have more data so you can better sort campaigns and see the information you're looking for more clearly. You can sort by send date and time, group and delivery status. To drill down into each campaign individually, you can simply click on the campaign name highlighted in blue.

Trend Graphs
Trend graphs for both email engagement and generated revenue have also been added to reporting. You can use the date-picker to choose a time period as well as zoom in on a specific date range. To zoom in, you will simply select a date range on the graph and then zoom out when finished.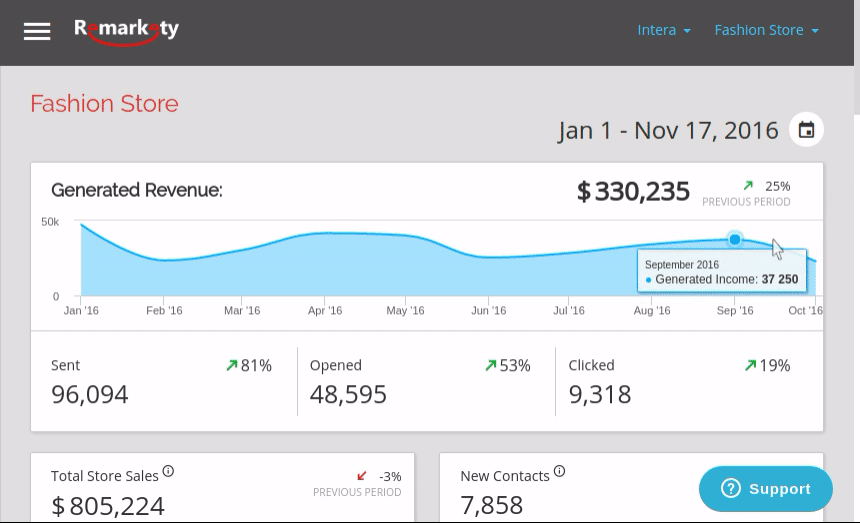 User Management
Account admins can now invite new users to create an account and access the store dashboard. Additional users will have all permissions except the ability to invite new users.
To invite and manage users, you will first access the User Management page via Settings > User Management.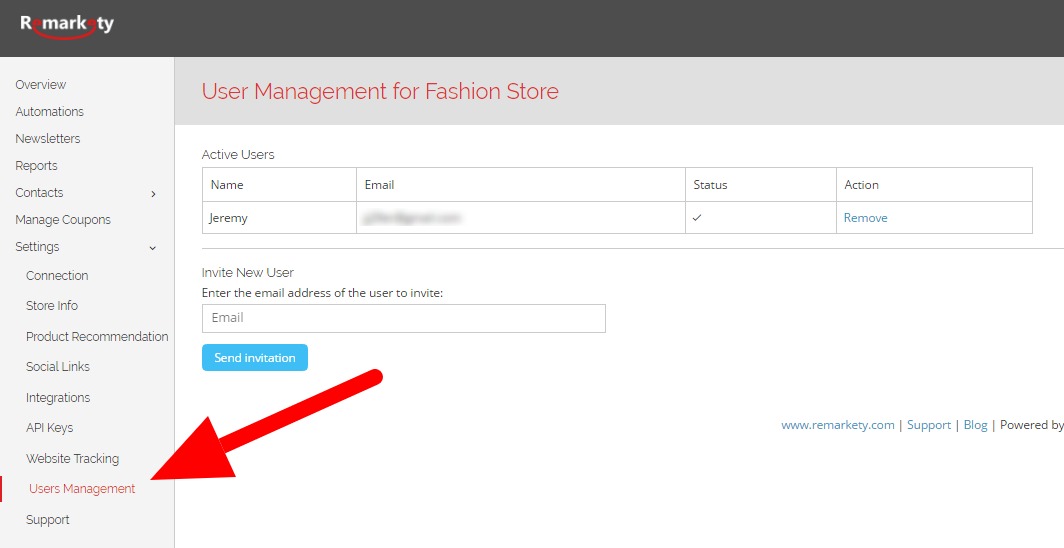 You will then enter their email address and click send invitation.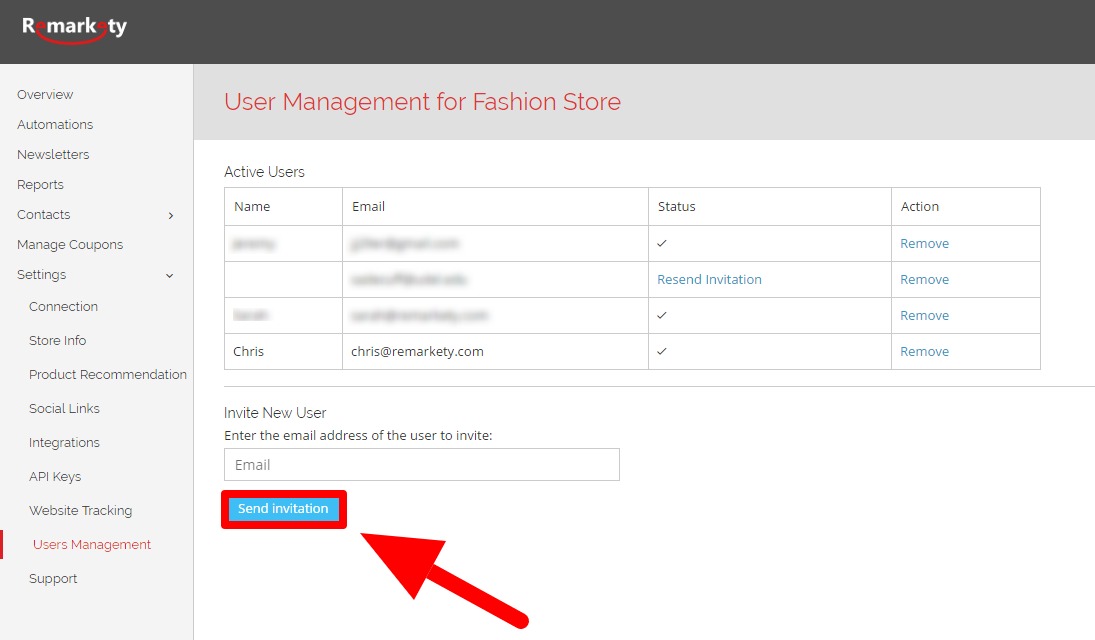 Once you send, an email will immediately be sent to the user prompting them with next steps in creating a login: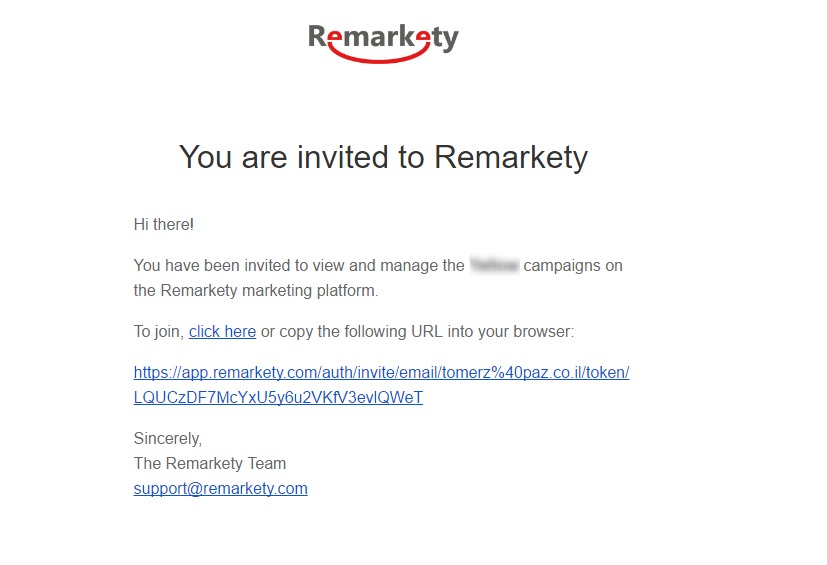 Segments:
With our new Segments feature, you can create a dynamic lists to target in campaigns, monitor the trend of the list and even sync that list to your Facebook Ads account.
You can learn more about the Segments feature in the video, below, or in here.
Transactional emails:
With Remarkety's transactional emails, you can create visually appealing campaigns with up-selling methods like product recommendations, coupon codes, and more.
Transactional emails are not marketing emails, and therefor will always be sent to customers, disregarding their marketing preferences or suppressions (except for technical suppressions such as bad email address).
That's all for now! We hope you love Remarkety 3.0 as much as we do!
As always, feel free to reach out to support@remarkety.com with any questions.
Sincerely,
The Remarkety team